Think about the last great customer service experiences you've had and what made them so remarkable: Was it the responsiveness of the staff? Their attention to detail? Their ability to resolve your issue on the first try?
Now think about your own operation and whether customers – either internal or external – can say the same about their dealings with you. If the answer isn't a resounding yes!, that's a sure sign that your customer service needs some more attention.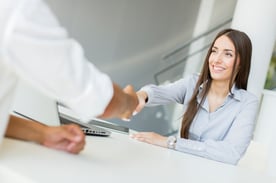 If you're wondering whether the investment in upgrading your customer service operation is worth it, consider this: 85 percent of U.S. respondents in a 2010 customer service report said they would pay more to ensure a superior customer experience. And 82 percent of consumers stopped doing business with a company because of a bad customer experience.
The real question, then, may be: Can you afford not to invest in better customer service? Backed by both research and anecdotes, here are three key reasons why you should spend more time thinking about customer service:
Exceptional Customer Service is the Ultimate Differentiator
Your competitors may offer the same products and services for less money and in less time, but there's a good chance they're also offering a less-than-ideal customer service experience.
Research shows that if you can win on customer service, you're more likely to win overall: According to the 2009 Customer Experience Maturity Monitor by Peppers & Rogers Group, "81 percent of companies with strong capabilities and competencies for delivering customer experience excellence are outperforming their competition."
If you don't already, start collecting data from your current customers about what you're doing well and where you can improve. Many bookings-based industries, everything from hotels to health clinics, send surveys to customers after every stay or appointment. You can use that information to track trends, inform your training and make data-driven decisions about resources.
Happy Customers are Loyal Customers
Brand loyalty isn't just a nice badge of honor, it makes the best business sense. According to Marketing Metrics, the probability of selling to an existing customer is 60 to 70 percent, compared with 5 to 20 percent probability of selling to a new prospect.
And according to the White House Office of Consumer Affairs, it's 6-7 times more expensive to get a new customer than it is to keep a current one.
Finding new customers is important, of course, but you should also devote time to building relationships with the customers you already have – or had. If you haven't heard from a once-regular customer in a while, reach out to find out why. Maybe they've moved, or maybe they had a bad experience and didn't want to tell you. Once you know about it, you and your staff can work to resolve it.
The Right Customer Service Response Can Win Back a Disgruntled Customer
Anthony Melchiorri is a hospitality expert and host of the Travel Channel series "Hotel Impossible." He firmly believes in the power of strong customer service and its ability to turn even the worst experience around.
One of his staff members once accidentally threw away a 13-year-old guest's playbill that had been signed by the entire cast of a Broadway show.
So the concierge went back to the theater, got a replacement playbill, asked the cast to sign it and mailed it to the guest. According to Melchiorri, the teen's mother was so thankful that she voluntarily took down the scathing online review she'd written.
To get the communications technology your staff needs to provide excellent customer service, contact Chicago Communications today!