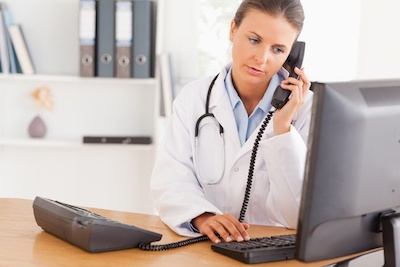 The future of healthcare technology is an exciting landscape of better overall health, enhanced hospital safety and seamless access to information – all powered by wireless communications.
Digital two-way radios, IP phones, radio frequency identification and smartphone apps for healthcare, as well as upgrades to more traditional communications systems such as nurse call systems, are all playing a key role in shaping the industry's growth.
With the benefits to well-being in mind, let's take a deep dive into understanding the current challenges facing healthcare technology and the ways that upgraded wireless communications, accessories and applications are fueling the industry's future.
Healthcare Technology Has Fallen Behind
In an age when consumer-focused watches and wearables monitor people's heart rates and smartphone apps show promise in treating depression, the traditional healthcare industry has fallen behind when it comes to technological innovation.
The reasons are plentiful, including challenges presented by regulation, fragmentation in how the industry is structured and funding.
Couple that falling behind with the explosive growth and evolution of the healthcare industry, and the problem becomes more pronounced. The larger an organization or network becomes, the more complex its secure communications needs become.
Security, in-building communication, multi-campus communication – all of these activities become more challenging as a health network expands to more campuses or a single hospital adds a new wing. And, while the obvious need is to best serve patients, hospital administrators are also faced with controlling costs and streamlining any process that they can – something that outdated healthcare information technology can hinder.
Analog Radios and Cell Phones Make the Problem Worse
The biggest challenge hospitals face with analog radio technology is that it doesn't do exactly what they need. For example, one of the most common goals health administrators have is an efficient radio system within their building, especially in emergency rooms. Plus, they want to equip their security and maintenance teams with devices that are always reliable, even when staff are working in the basement or deep in the interior of the building.
But analog radios users will run into common issues such as:
Limited range
Poor signal within large buildings
Lack of immediate notification ability (Push-to-Talk)
Or, hospital staff rely on their personal (or network-owned) smartphones for communication. While there are several issues with this strategy, including the fact that cell phone use is usually prohibited in some areas of health facilities, perhaps the most important is that smartphones are simply not as reliable as digital two-way radios.
In areas of the hospital that the smartphone cannot get signal, digital two-way radios can come in crystal clear, thanks to their expanded network capabilities. Plus, radios can go much longer without a charge than a smartphone.
Digital Radios Can Save the Day
Now more than ever, healthcare workers need instant, reliable communications. When it comes to performance, safety and security, digital two-way radios are superior to analog radios and smartphones in terms of:
Reliability
Reach
Range
Durability
One-touch, one-to-many communications
Ability for enhancements through apps, accessories and special features
Three of the most common benefits provided by an upgrade from analog to digital include:
A better patient experience through improved response time from staff
Increased staff and patient safety with critical voice communication
Increase productivity of nurses, clinicians, and doctors
And communication in healthcare isn't just about patients' medical care, it's about everyone's safety and security as well. According to the American College of Emergency Physicians, 75% of ER doctors experienced at least one incident of workplace violence in the previous year, and more than 70% of emergency nurses reported physical or verbal assault by patients or visitors.
With both staff and patients at risk, emergency room workers need to be able to reach security personnel the first time every time, and too often, analog radios and cell phones just can't keep up.
A Case Study & Scenarios in Support of Digital Radios
Conversion from Analog to Digital Increases Coverage for HealthCare
Alexian Brothers Medical Center (ABMC) is a 387-bed facility in suburban Chicago that covers two campuses, plus an off-site warehouse. Staff use radios throughout a three-town area with help from two repeaters that connect communication between Arlington Heights, where the corporate office is, and Elk Grove Village. There are about 20 radios placed amongst these locations, with at least eight in use at all times.
Security Director Dan Mccarthy is one of the main users, along with other security incident command employees, the administrator on call, as well as the facility's maintenance staff. For Dan and his team, coverage is the most important factor to consider in a radio system. ABMC covers 2 million square feet, a lot of which includes medical and mechanical equipment rooms and different basement levels.
Their previous analog two-way radio system was experiencing a lot of interference and dead spots. A digital radio system solution was able to penetrate through all areas and levels to provide clear and constant communication. Another benefit of digital is having the texting function, which comes in handy when a mass message needs to go out quickly when an employee needs immediate assistance.
Since the transition from analog to digital, ABMC has better coverage and more reliable communication. The medical center operates with a majority of MOTOTRBO XPR 6550s. With their previous analog system, the staff wasn't able to use radios in a vital 15% of buildings. It's common in hospitals to experience these coverage issues because of the building's density, construction and equipment. The MotoTRBO digital radio system has helped ABMC move toward their ultimate goals of achieving the most efficient communication and improving crisis management between all locations. ABMC has also begun partnering with their sister hospital, St. Alexius Medical Center, in aligning their communication systems in an effort to utilize two way radios communications more efficiently .
6 Scenarios Where Instant Communication Assists Healthcare & EMS
Scenario 1: In a hospital, the phone in the pharmacy is temporarily unattended. When the nurse's station calls, they do not get an answer. The head nurse calls the pharmacist using selective call to locate medications that are late to be delivered for a patient.
Result: Radio allows the pharmacist flexibility in helping customers. Also selective call allows the head nurse to direct her call to the pharmacist without disturbing other radio users.
Scenario 2: As soon as a patient is assessed in the emergency room, the attendant radios the appropriate specialists to address the patient's needs.
Result: Because the attendant can radio specialists, the specialists are free to attend to other patients until needed. Also, the response time to critical patients is quicker.
Scenario 3: A transport for disabled patients uses radio in their vehicle to coordinate pick-ups and drop-offs for their clients.
Result: To provide safe travel for their clients, they use an external PTT footswitch in conjunction with a visor microphone to perform their radio communications.
Scenario 4: All of the operating rooms are booked for the day. The attendant finds that the lights are not functioning properly and sends a call alert to the maintenance crew. The worker handling calls is changing the filters on the air handlers and does not hear the initial call.
Result: Because his two way radio has the Escalert feature, the radio beep continues to get louder each time until he hears the call. The worker fixes the lights immediately, and the surgery can be performed when the doctor, anesthesiologist and nurses are available.
Scenario 5: In a conversation with her manager over radio, a researcher shares the test results for a new medicine.
Result: Encryption prevents eavesdropping by rival manufacturers.
Scenario 6: An EMT (emergency medical technician) calls the hospital emergency room with the location of an accident and status of injuries.
Result: Encryption prevents eavesdropping by news reporters.
Instant communication, as demonstrated in the scenarios above, can mean:
Immediate notification when situations arise
Improved coordination & response time
Reduced operational costs
Wireless Communications Act As Hidden Heroes
While two-way radios help keep hospital personnel in sync, there are other technical advances in healthcare information technology to take note of, including:
Strong, Reliable Wireless Networks
Digital data storage and file sharing has become a fast and effective way to organize and distribute information. Without the proper wireless network equipment and security, your hospital could experience delayed interactions and could also be vulnerable to external threats or data breaches. Having the fastest and most secure wireless network available positions your healthcare organization for successful maneuvering throughout daily operations at optimal speed and a with sense of confidence.
Gone are the days of the traditional 'Sign-in Here' sheet at the front desk. Instead, upon arrival you're handed a tablet to fill out all of your personal information to keep on file, and you're automatically checked in once doing so. We also no longer see stacks upon stacks of patient records in those manila folders for filing cabinets, but rather the doctor comes in with his own electronic device that seemingly has everything from the date of your last visit to what foods you are allergic to, all stored securely and available at the press of a button.
One of the most exciting pieces of technology related to the future of healthcare technology is radio frequency identification. It's being used to save both lives and money in inventory management, patient tracking and management, as well as document and data file tracking.
Communication is critical in healthcare, so it's also no surprise that wireless options are proving to be more and more necessary for hospitals. Public Safety LTE links officials to one another for fast, secure, and reliable communication. According to Motorola, "Agencies can link LTE and two-way radio users together with secure, voice push-to-talk (PTT), and dynamically prioritize users and data serving the most critical incidents, de-prioritize non-essential traffic and when necessary pre-empt. First responders can experience real-time wireless video streaming that adapts to the changing signal quality inherent with wireless broadband."
What does this mean for EMS and other responders? This keeps everyone in the loop, especially with interoperability. EMS can track an incident's location, while keeping their safety in mind with the knowledge that the scene is safe to enter. This type of communication also gives responders the ability to access real-time information to accommodate for any changes and adjust accordingly. Other wireless technologies include GPS, allowing ambulances to take the fastest route to the hospital or scene. Another benefit of wireless connectivity is the ability for EMS responders to monitor "patient vitals and treatment, hospital availability, ambulance transport arrival time and streamlines patient handoff."
Without this up to the minute access to information and interoperability, EMS responders could not do their job as efficiently, ultimately putting the patient and their own lives at risk.
The technological shift towards digital and wireless means of communication makes all of us reliant on the internet and WiFi. With this in mind, it is crucial that your hospital or clinic has the most up-to-date wireless solution to maintain connectivity.
Every once in a while, it's important to conduct an audit of your current wireless network to spot any weak spots, prevent problems before they start and make sure things like your wireless access points are properly placed. Check with your wireless communications dealer to see if they have service and diagnostics among their offerings.
Bi-Directional Amplifier or Repeater
A bi-directional amplifier, or BDA, solution boosts the effectiveness of your cell and two-way radio coverage, even underground or in tunnels, and gets rid of "dead zones." A BDA locates a wireless signal, amplifies it, and then rebroadcasts it throughout your building.
This investment will minimize long-term operation cost while also improving coordination by the means of an effective and dependable communication solution.
With both bi-directional amplifiers and repeaters, it's important to have a certified technician strategically place the components of your solution for the best short-and long-term results.
Wide Area Coverage with IP Site Connect
For larger hospitals and healthcare systems, both personnel increases and distance make solutions such as IP Site Connect even more vital.
IP Site Connect by Motorola Solutions uses the power of the internet to extend coverage of a MOTOTRBO communication system across a hospital campus, a city, state or even the country. It also eliminates the impact of structural and natural physical barriers such as tunnels, trees and hills.
IP Site Connect:
Can bridge communications for up to 15 repeaters and 100 people in different locations
Allows users to roam from site to site without changing channels or interruption
Covers the sharing of voice and data, including text messaging and GPS tracking
The solution is ideal for growing hospital systems or campuses that have personnel spread across multiple, far-flung locations.
Group Communications with WAVE
Motorola's WAVE Work Group Communications is an excellent example of technology that bridges the gap between radios and disparate platforms and devices.
WAVE's PTT platform seamlessly connects smartphones, radios, computers or landlines. Now, not every user needs a radio in order to be included on important conversations between radio-carrying security and transportation staff.
IP Phones for Healthcare
The internet is also driving another healthcare technology trend: IP phones for hospitals and hospital systems. Healthcare organizations are turning to VOIP to replace aging phone systems that can't keep up with demand and are costly to maintain.
Benefits of IP phones for healthcare include:
HIPAA-compliant data storage: As more hospitals and clinics fully adopt Electronic Medical Record (EMR) and Electronic Health Record (EHR) technology, they need a phone system that provides secure information storage.
Call recording and monitoring: Ensures backup of the patient and health information relayed by phone.
Access to integrated software applications: Many organizations that choose IP phones package the service with instant messaging, call management and conference call capabilities, among others.
The Next Generation of Nurse Call Systems
An element of healthcare tech most overdue for a high-tech overhaul is nurse call systems. Patients and staff find are finding that the systems of the past require too many steps, don't have robust reporting and aren't as accessible as they should be.
Upgrading to a wireless nurse call system can deliver better reporting, access via multiple access points, adaptability and scalability. Data from a wireless system can be integrated into workflow management solutions and be used to make staffing safer and more efficient.
Healthcare Apps
For both patients and medical professionals, smartphone apps for healthcare are transforming the way care is delivered.
For doctors, some of the most popular apps offer access to medical news, articles, prescribing guidelines and drug information, and even tutorials for students. While some apps cater to a range of medical fields, others target specialties such as cardiology.
On the patient side, apps are available for everything from calorie counting to the automated diagnoses of minor aches and pains. Physicians are even recommending apps to help patients track conditions and treatments and gather information.
Priorities for Healthcare Information Technology
The pillars of healthcare information technology and strong wireless communications infrastructure go hand in hand. Securely creating, storing and transmitting electronic medical records in real time requires powerful networks.
In a survey of 95 healthcare executives by Healthcare IT News, respondents outlined their priorities for upgrading technology. The survey offers a revealing look at the direction of healthcare information technology.
Technology upgrade priorities by the percentage of respondents:
52% security
51% analytics
44% patient engagement
44% population health
31% EHRs
24% remote patient monitoring
22% revenue cycle management
The Future is Now
When it comes to increasing access to quality healthcare and information, the future can't come soon enough. Wireless communications technology and devices are playing an integral part in supporting the advances of today and laying a firm foundation for the innovation of tomorrow.