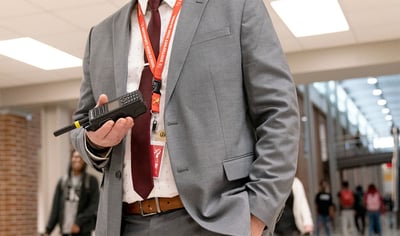 Two‑way radio communications provide secure digital channels that can increase productivity, improve resolution time and protect workers. Many radio frequencies are regulated by the Federal Communications Commission (FCC), and it is important that the devices comply with FCC rules.
The FCC requires a GMRS (General Mobile Radio Service) license as a way to regulate frequencies that are used by two‑way radio devices. Before operating a GMRS radio, a consumer must have a valid license.
The FCC licenses certain frequencies, such as AM/FM broadcasts, radio spectrums, and cell phone frequencies. Users of Citizens Band Radio Service, Family Radio Service, General Mobile Radio Service, Low‑Power Radio Service, and Multi‑Use Radio Service are allowed to operate on unlicensed channels, as long as they do not cause any interference. But according to the FCC, General Mobile Radio Service requires an FCC license to operate.
Two‑way radios use the shared FRS/GMRS frequencies that transmit above 2 Watts of power, so they require FCC licensing. This is to make sure that your company's frequencies do not overlap with other channels.
FCC‑compliant devices
The Enforcement Bureau of the FCC put out a public notice in 2018 addressing a concern that some retailers and websites are importing and selling low‑cost two‑way VHF/UHF radios that are not in compliance with the Commission's rules. Some of these devices can be modified to transmit on unauthorized channels and could have negative impacts on public safety, aviation, or private users.
The notice states the following: "Because these devices must be, but have not been, authorized by the FCC, the devices may not be imported into the United States, retailers may not advertise or sell them, and no one may use them. Rather, these devices may only be imported, advertised, sold, or used only if the FCC first has approved them under its equipment authorization process (or unless the devices operate exclusively on frequencies reserved for amateur licensees or they are intended for use exclusively by the federal government)."
Manufacturers, importers, retailers, and radio operators should understand the FCC rules and make sure that all two‑way radios, accessories, and electronic components are labeled as FCC‑compliant.
It is important to know whether your device needs a license. Not complying with FCC rulings surrounding VHF/UHF radios and FCC rules could result in steep fines.
Rules for getting a license
You need to be 18 years or older.

You cannot be a representative of a foreign government.

Once you get a license, your family members can also legally operate the system.

If your system was licensed before July 31, 1987, your license can be renewed if it was not updated or modified in a significant way.

Your license is good for ten years, but it needs to be renewed within 90 days of expiration.
How can I get help securing an FCC license?
Some two‑way radio service providers provide a free consultation to help you ensure your system complies with FCC regulations. Chicago Communications is one such provider.