An essential feature for fast and efficient communications in business and in public safety is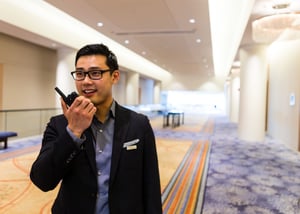 push-to-talk technology, which makes it possible to connect with people with just the click of a button. Now, with more communications products hitting the market, it can be challenging to make a buying decision.
Here we look at whether the WAVE two-way radio (TLK100) or Kodiak PTT is the best fit for you and your organization.
How WAVE TLK100 and Kodiak are similar
Both WAVE TLK100 and Kodiak allow users to immediately connect with recipients without the wait time of placing a call and waiting for the recipient to answer. This can eliminate delays in communications when seconds can make the difference.
Push to talk technologies in both brands are enhanced by their ability to include group as well as one-on-one communications. Both versions are also part of a communications strategy for safer environments, which is essential in health care, education, and public safety. Learn more here in our Secure Communications Equipment Guide.
Essential differences between WAVE and Kodiak
The biggest difference in the two brands is how the push to talk technology can be used.
WAVE is an over the top (OTT) push to talk over cellular (PoC) solution. WAVE can unify communication between your devices on any network. WAVE can be used with multiple devices, especially two-way radios. If a company had a hundred cell phones and a hundred radios, WAVE would be the better choice.
Kodiak, on the other hand, is a carrier-integrated PoC solution. Kodiak is mission-critical PTT (MCPTT), compliant with 3GPP standards, and the only MCPTT-based broadband PTT solution. A company or person would choose Kodiak if they only use cell phones and not two-way radios. Kodiak works with a carrier (e.g. Verizon), so if you are already a business customer of Verizon, Kodiak would be a good choice.
WAVE two-way radio (TLK100) or Kodiak presents essential communications functions. To learn more about how to make the best communications choice for your agency, contact Chicago Communications for a free consultation.