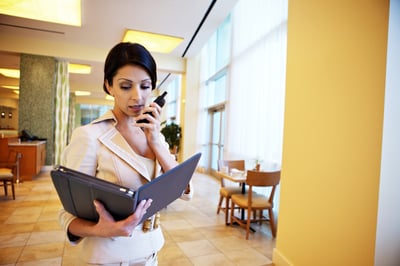 In our everyday lives, smart phones are powerful instruments, allowing us to connect and communicate just how we need to. But in a professional setting, whether on the plant floor, in the classroom, or during an emergency response, a smart phone is not always enough. Here, we look at whether a smartphone or two-way radio will be more effective for your workforce and operations.
The power of smartphones
As you consider whether a smartphone or two-way radio will best suit your needs, it's important to recognize the power of smartphones. Phones today are not just used for making phone calls. PCMag reports smartphones can be used for just about any type of communications—texting, video calling, email and voice calls. In addition, they feature primary built-in applications including calculators, voice dictation, calendars, photo albums, cameras, GPS navigation, and voice-activated virtual assistants. Smartphones can access the Internet through 3G or 4G networks, and most have Bluetooth and micro USB capability. In addition, most have a fairly long battery life, lasting at least a day on a full charge.
The downside of smartphones involves some important considerations. One, they can be costly, especially if they are doled out by an organization to every member of the workforce, and expenses can add up in monthly usage fees. Two, because their connection is not 100% reliable, smartphones can be risky when towers are overloaded, an emergency breaks out, or users are in "dead zones" of poor coverage. And finally, while smartphones have come a long way, they still do not offer all the functionality of two-way radios.
The power of two-way radios
A two-way radio is a transceiver that can transmit and receive a signal. They can be mobile, stationary or a hand-held portable. They offer several communications benefits:
They're easy to use. Talking is as simple as pushing a button. They are light-weight and durable. Unlike cell phones that require a case and are susceptible to being dropped or broken, two-way radios are built to hold up in the roughest industries such as military and public safety. Two-way radios also work with no monthly fees or service contracts, and one radio can be shared by multiple users.
Another positive feature of two-way radios is the lack of distractions. While smartphones give users the ability to do their job, they also make it possible to check social media, watch shows, text, manage personal business and play games. Two-way radios on the other hand are built only for communication. This makes response times more efficient as the interface is not cluttered with multiple applications.
Moreover, two-way radios provide exceptional communications functionality. They can be used when cell service towers or landlines fail or when users are in areas of poor reception. With two-way radios, users can connect during emergencies, power outages or natural disasters.
Two-way radios are designed to cancel out outside noise and they allow sound to get through resistance such as wind and cold and wet conditions. This makes for crystal clear audio in the loudest of environments. Another important feature over cell phones is their broadcast ability, which makes it possible to call several users at once instead of one at a time.
The right choice for your organization
Communications are essential in every industry and choosing the right technology for your organization is a matter of cost, function, needs and opportunities. While smartphones may "do the job," they may not help you reach your full potential in efficiency, productivity and safety in the way that two-way radio communications can.
To learn more, contact us. And, download our free white paper on two-way radios.