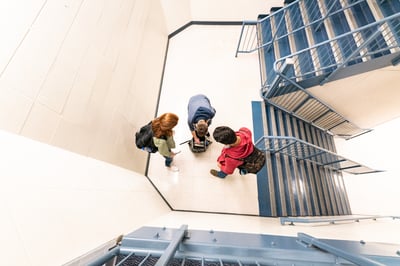 Many business leaders across industries—from manufacturing to education to healthcare—know that video surveillance equipment is a good investment. They know for public safety and for facility security, it's a no‑brainer. But moving forward with a solution requires an understanding of two parts: The cameras and the setup. Here, we provide an overview of video surveillance installation, including how much you might expect to pay.
Video surveillance options
It's important to recognize that today's video surveillance systems are more than just a few cameras and a recording. They are advanced technological systems that can encompass a multitude of features depending on your needs. For example, video surveillance solutions can include:
Artificial intelligence and video analytics to detect, verify and act on critical events. This can mean everything from detecting unusual motion, to recognizing license plate numbers, to having easily searchable footage of key incidents.
High‑tech cameras and sensors. Some equipment is as simple as mount‑aim‑and‑shoot, and some is designed to turn on and off based on movement or are certified for hazardous locations.
Video infrastructure. Many surveillance solutions go beyond the cameras and into sophisticated network video recorders, archives, and encoders. Footage can be captured locally and viewed centrally. There are also systems to transfer legacy analog systems to network based IP‑systems.
Video management software. Many systems feature video management software that provides an AI‑enabled user interface for monitoring events. This software is typically connected to the Cloud allowing for access and monitoring from anywhere a user has a web browser and Internet connection. Cloud services connect servers with mobile users, web clients and surveillance sites.
Access control. This gives users the ability to add or alter hardware and software and scale solutions based on surveillance needs. Video solutions can be connected and powered to an existing IP network and integrated with other software and systems.


Understanding your need
Whether you need all these bells and whistles is based on your operations and surveillance goals. Small businesses may only need cameras at the point of sale or in production areas. Schools may need video surveillance in every classroom, in offices and hallways, and even on buses. At the same time, professionals in hospitality may need cameras on every floor to monitor guest activity or watch for trespassers to ensure guest safety. Cameras may be needed outside, or in various elements, and various capacity regarding user access, visibility, monitoring and analyzing may be needed.
Moving forward with video surveillance installation
Of course the cost of video surveillance installation can vary depending on several variables. Some solutions for small businesses can be relatively inexpensive for a start‑up system and a handful of cameras. These packages may include a monthly surveillance charge. More extensive systems can be much higher in price, but can incorporate the more sophisticated technology, such as remote access and trigger‑event recording. The price depends on the desired system and complexity of the installation. Factors affecting price include location, number of cameras, current infrastructure, and necessary capabilities. During the process, business leaders should keep in mind that the cost of video surveillance installation is an investment in safety and security and can set their operations above the competition when it comes to customer confidence, employee reputation, and overall consumer experience.
The experts at Chicago Communications can walk customers through the variety of video surveillance systems, including video management systems and video signal distribution systems, and can provide professional video surveillance installation taking into account budgetary concerns. Contact us for a free consultation.