Anyone who's already using radios for manufacturing knows that they are game changers that lead to better efficiency, enhanced safety and better communications overall. If you're considering making the switch to radios or you're looking to upgrade, the number of choices, features and applications can be overwhelming.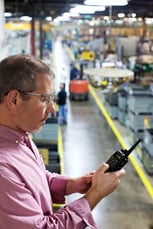 Fortunately, we work with a number of manufacturing clients and have a great sense of what they need and use most often. For an example of the kind of tailored solution we've put together for a manufacturing client, check out our case study about Aux Sable, one of the largest natural gas liquid extraction facilities in North America.
As you're putting together your list of must-haves and nice-to-haves, here are some recommendations for what to look for in radios for manufacturing.
Noise-cancelling Technology
When you're working on a noisy plant floor, you need radios that ensure that you can hear and be heard. Look for radios that eliminate background noise and automatically adjust the volume based on the noise level users are facing. Automatic adjustment means the device does the work so users don't have to.
Longer Battery Life
Manufacturing is not a 9-to-5 industry, so you need radio batteries that go the extra mile for all of your shifts. Batteries built for manufacturing-ready radios can last up to 29 hours at a time between charges. Compare that to the battery life of a typical smartphone, and you'll see why the change is an easy one to make.
Ruggedness
Manufacturing environments are tough, which means that your equipment – including your wireless communications equipment – needs to be, too. Look for radios with ruggedness guarantees for things like submersibility, temperature and, for lack of a better term, drop-ability, or the height that the radio can be dropped from and still function properly.
Hazloc Classification
Motorola, for one, offers communications equipment, including radios and accessories, that have been certified for use in a Hazardous Location – also known as "HazLoc." The devices are certified by UL and carry the HazLoc designation on their labels.
The National Electrical Code (NEC) NFPA 70 defines hazardous locations as areas "where fire or explosion hazards may exist due to flammable gases or vapors, flammable liquids, combustible dust, or ignitable fibers or flyings."
Safety Features for Workers
Radio manufacturers know that their devices aren't just for communications, they're key players in worker and user safety.
Radios for manufacturing will have safety features such as:
Text-to-speech: This allows workers to hear text messages instead of having to stop what they're doing and read them.
Lone Worker and Man Down: Both Motorola and Vertex Standard two-way radios are outfitted with features intended to ensure worker safety, including the Man Down application and Lone Worker function. Man Down is best for situations in which an isolated worker on duty has become incapacitated. For both brands, Lone Worker tracks user activity and sends alerts if something goes wrong.
Indoor Location System: Seamless, real-time indoor tracking, especially for workers in hazardous environments, works hand-in-hand with other safety features.
Manufacturing technology has evolved a great deal when it comes to communications.
To get the technology your staff need for critical communications, contact Chicago Communications today.