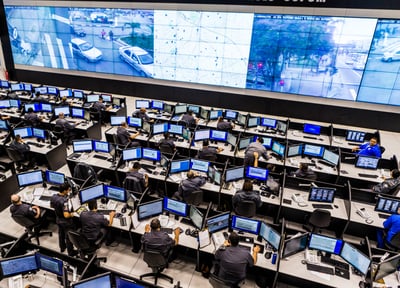 A video surveillance system is a benefit across multiple professions for many reasons. But not all surveillance equipment is created equal. Here, we look at why this technology is so important and what to look for when equipping your business or organization.
Why have a video surveillance system?
The reasons for capturing footage of your business or organization are plenty, and mainly surround issues of safety, security, and cost savings.
Safety: A quality surveillance system can improve overall safety for employees and customers. It holds people accountable and can deter unwanted behavior. Also, the mere presence of cameras lets people know that you care about their wellbeing, which can improve the overall perception of your business.
Security: Cameras placed around a business can prevent crimes and break-ins. If a theft does occur, cameras make it possible to review the crime scene and take action if possible. Having cameras also allow visibility into operations and locations at all times, even when managers can't be in multiple places at once. Video surveillance systems provide real-time access to live and recorded images for an ever-present extra layer of protection.
Savings: Sources say a typical business can lose up to 5% of their revenue as a result of fraud. Video surveillance can keep an eye on customers and employees. Having cameras can help your business ensure compliance with HIPPA or SEC regulations as well as internal policies. They can also reduce the need for additional security personnel.
It's also been found that video surveillance can increase profits. One study revealed that businesses experienced a 22% reduction in theft and a 7% increase in profits after installing a surveillance system.
The effectiveness and adaptability of cameras make them an ideal solution for almost every industry, including education, healthcare, manufacturing, hospitality, and public safety.
What to look for
Video and camera systems come with a variety of features. Sources indicate a few things to consider when evaluating different systems include:
Resolution: Internet protocol or IP cameras typically are more powerful than analog cameras, providing footage between 1 and 5 megapixels. Analog cameras produce images that are less clear, coming in at about one half of a megapixel. It's important to consider how clear of footage your business will require.
Video analytics: Some cameras allow for mobile notifications and automatic recording when they sense movement. These cameras can be configured to flag certain events and send a message to users' cell phones.
Frame rate: Another thing to consider is frame rate, which is how many frames per second are taken. The higher the frame rate, the less choppy and smoother the video.
Lighting: Finally, it's important to consider a camera's lighting capabilities. Many models have low-light infrared, which lets them capture clear shots in darkness. To do this, the cameras use infrared LED lights. The more LED lights it has, the better its capability of shooting at night. In industries like public safety, this lighting is imperative.
Video surveillance solutions
Chicago Communications can analyze your operations and business needs and recommend the ideal video surveillance system for your needs. Among the products we install are:
Avigilon Network Cameras, which preserve video image integrity while intelligently managing bandwidth.
Axis Network Cameras that connect to any kind of IP network, including the Internet, and enable remote viewing and recording from anywhere
Salient Systems Video Management, which is built on the foundation of open architecture and provides the tools for unlimited scalability and flexibility to manage large and small security needs.
To learn more about communications technology that can improve your bottom line, browse our blogs. And contact us for a free consultation on how video cameras can help your company boost safety and security and save money.