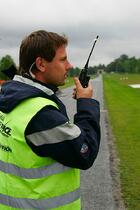 If you're looking for a price savvy communication product, without the full commitment of a purchase – renting radios is definitely one of the best options out there. You get the quality and control that you would normally get when purchasing a two way radio system, but without the upkeep and price tag associated with it. This is a perfect option for those who would only use a radio system a few times a year for special events. Batteries and antennas are automatically included with each rental; each customer receives one spare battery and charger for every two radios rented. By choosing to rent radios, you can rest easy knowing that the programming, licensing, and even delivery of your communication equipment is being taken care of.
But first, here are some things to keep in mind after you've decided on the wise choice to rent two way radio equipment.
1) Accessories. It's obvious that you'll need radios to communicate back and forth with your team, but what some people tend to forget about are the added on accessories that can noticeably enhance your communication- especially in outdoor or high volume noise environment. Batteries and antennas are automatically included, as are spare batteries. If you're renting the radios for a security event, surveillance microphones can be a sleek bonus to your radio rental. Headsets, surveillance mics, and speaker mics can be rented, style dependent on what type of radio you are renting. Headsets are a great feature for someone who isn't looking to be inconspicuous, whereas the surveillance and speaker mics are more disclosed, and are prodigious for loud or outdoor situations.
2) Time. Although radios can be rented within a short period of time (we'll never turn you away for a last minute order!), thinking ahead can be a game changer in terms of what radio equipment you'll need. Rental radios encompass anything from a standard Motorola radios to compact size Vertex radios. This spring will definitely be busy, from graduations, to races, to food drives, and other private events. Securing your radios ahead of time can guarantee you the proper equipment you need, when you need it.
3) Flexibility. One of the greatest benefits of renting two way radio equipment is the flexibility you receive when doing so. Flexibility meaning we can accompany those who have no radio equipment installed currently, but we can also add on to your existing equipment already in place if you need some extra accessories or radios for an event. You can rent radios that operate off our own private licensed frequencies, or we can program them to your established frequencies. Either way, we've got you covered.
Radio rentals are easy to accommodate virtually any event in any location. We offer base station and repeater rentals, intrinsically safe radios upon request, and an intensive portable radio inventory at your disposal. Once you've gotten your radios and necessary accessories, you're able to enjoy the convenience and reliability that this form of wireless communication offers. Success of your event starts with seamless communication!