If you've received anything from us lately, or checked out our web site, you may have noticed a slight change with our logo. Instead of just our logo, you now will see that added underneath our logo is the statement, "We create the infrastructure behind mobility." Why this change? Because we felt those six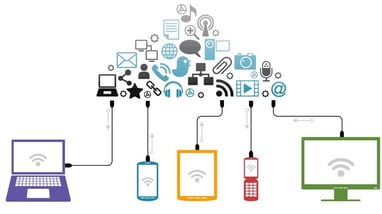 words pretty much sum up who we are and what we do.
In the world we live in today there are cell phones, tablets, radios, computers, smart vehicles, GPS, and even smart watches. And wherever we go, we want to stay connected with those devices. Whether you are a first responder, a student, a parent, a business person, a teacher, an equipment operator, a construction worker, a high-rise tenant, a doctor, or a sales associate in a store, you want connectivity when you want it.
What's funny though is that most people don't ever step back and wonder how that connectivity gets to them. That's where we come in.
Chicago Communications creates the infrastructure behind your mobility.
We are the ones who design, install, and service the systems that allow you to have the connectivity when you want it in locations such as:
Town Centers

Hospitals

Schools and O

ffices

Manufacturing and Distribution Facilities

Stores and M

alls
Over the years, the electric companies worked to provide infrastructure so whenever you flipped on a light switch the light went on, the telephone companies worked to provide infrastructure so whenever you picked up your landline telephone you heard a dial tone, and now we work to provide the infrastructure behind mobility so whenever you go to use your mobile device it's connected.


So, the next time you go to use your two-way radio, tablet, computer, or phone and it's connected, think of us.

If on the other hand you're not getting the connectivity you want when you want it and where you want it, also think of us. We can work with your town, village, building management company, building owner, business owner, school district, or store owner to improve your coverage or connectivity.

Remember, at Chicago Communications LLC, we create the infrastructure behind mobility. To learn more about us and our product offerings, contact Chicago Communication today.

This article was written by one of Chicago Communication's Principals, Cindy Glashagel. Cindy has over 27 years of experience in the industry. She held many positions during her tenure at Motorola, beginning with Systems Engineer and other various customer service, quality & operations management, and HR positions before resigning to start Chicago Communications, LLC. If you have any questions for Cindy, or another representative at ChiComm, please contact us.