Great Event, Great Cause
For the past 4 years now we've had the pleasure of supplying two way radios to an organization we're very proud to support. That organization, Operation Support Our Troops (OSOT), was founded in 2003 by Deb Rickert of Illinois. I recently spoke with Deb and she explained to me how the organization got started.
After the attacks of 9/11, Deb's oldest son went into the U.S. Military Academy at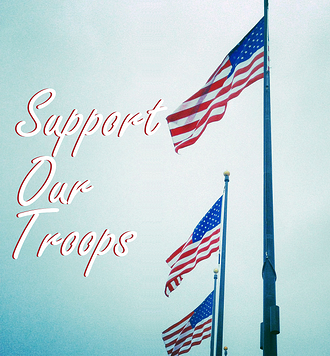 Westpoint and afterwards joined the
U.S. Army
. Suddenly she found herself part of a military family, like many other families across the U.S. often do. The situation really opened her eyes to what military families go through, right away. She took note that there was always going to be a certain amount of politics and controversy surrounding the war but she wanted to make an honest effort to make sure those frustrations didn't get in the way of supporting those currently serving our country and those who have served already. She started by sending care packages overseas to troops that were deployed and in harm's way. The care packages were composed of a large variety of personal items, ranging from shampoo and soap to medical items and snacks--and can be different for each troop. Some units are in very remote areas where eating what they can on local economy isn't much, and especially now with sequestration and cutbacks, they can't get many of these things. The
comfort/care package program
took off quickly and became hugely successful in the years since then. 10 years later and the organization is approaching the 1.25 million pound mark of goods sent to troops serving! There are several
other programs
also run through OSOT that all focus on keeping the same message alive: not only do we still have
troops that are serving
overseas and across the world everyday but those that come home will also
need our support more than ever
.
Rockin' For the Troops! The feel good event of the year
In order to provide that enormous amount of support and keep the OSOT operating, the organization hosts an annual concert called 'Rockin' for the Troops'. The concert was originally started 8 years ago as a way to raise money to pay for postage on packages being sent to the troops. Right around the time the event was being planned it so happened that Gary Sinise had just put together a band (called the Lt. Dan Band)--so they were able to partner on the concert and what a perfect pairing it turned out to be! This year though, a new talent will be headlining the concert... Grammy award winner, Ronnie Dunn (formerly of Brooks & Dunn).
What started out as an event to raise funds quickly became a day of celebration filled with overwhelming amounts of support. The concert now consistently draws in at least 10,000 people every year (usually more)! So you can imagine lots of coordinating and planning goes into an event of this size. I also got a chance to speak with the Logistics Chairman of the concert, Bob Bohr. Bob handles all of the 'behind-the-scenes' responsibilities for the concert from start to finish. That includes arranging 40+ tents to be set up on the grounds, managing contractors for stage production, light, sound, and everything else required to power up the concert.
Along with all the planning, an immense amount of communication is necessary to execute hundreds of different tasks the day of the event. That's where Chicago Communications steps in. By providing Bob, committee members and many other volunteers' two way radios, communication becomes much more convenient. "For this type of environment the radios are a whole lot more convenient and easy to use than cell phones," Bob said. Specifically, the radios are used by members of the finance, security, collections, raffle and stage committees in addition to communicate with vendors and volunteers spread amongst Cantigny Park, in Wheaton, IL.
Over the past few years Bob has worked with the head of ChiComm's rental department, Diane Dupasquier, on getting the two way radios he and the volunteers use during the concert. "Diane does a great job for us. Everything from getting us the equipment, having it ready in a timely fashion, to getting it picked up afterwards–she's a true professional and we enjoy working with her," Bob adds.
All in all though, this event is a lot more than just a concert. It's common for military members and their families to feel isolated if there isn't a military base nearby, so this event becomes more about spending time with families they can relate to. Deb said, "As a mom of two in the military now, it's very affirming to know that there's more than 10,000 people who come together for this cause. Hearing people thanking veterans and interacting with them and their families… it's just such a great day to be a part of. A lot of people say it's their feel good event of the year. Those who come will walk out feeling so good about our country and how people care about our military and our veterans."
Bottom line: it's important we remember our military and their families for what they're doing and what they're going through. They need to know that we care, value and appreciate them for what they have done and are doing. Thanks to the Deb Rickert (President of OSOT) & Bob Bohr for taking time to share what the meaning of this Rockin' event is.
Do you know someone with family in the military or someone that would enjoy this event?Please share this article with them OR tell us about your ties to the military service in the comment box below.
Concert Details: The fun begins July 20th @ Noon (until 11pm)-- Tickets are $25; Visit the Rockin' For The Troops Website for more information!
OSOT offers financial and volunteer support from a national level down to local level. The ability to do all this comes from the funds raised at the Rockin concert! The proceeds raised from the Rockin for The Troops event not only fund their programs but additionaly they've actually been able to fund up to 10 other military support organizations each year. Debbie told me, "One area that has been a real focus for us has been PTSD & traumatic brain injuries. Unfortunately while we see that our combat death toll is dramatically lowering, the flip side of that is we're losing more veterans and active duty- a day to suicide. A lot of that is a result of PTSD & brain injury." So for just $25 you can see great live music while gaining the satisfaction of knowing you're making a difference.
The mission of OSOT is to support the morale and wellbeing of American forces by providing comfort, resources and education to them and their families both while they are deployed in harm's way and after their return. As a volunteer based non-profit organization, we provide the opportunity for our community members to express their appreciation and also offer support for our troops. Engaged in the longest war of our country's history and with our servicemen and women completing multiple tours of duty, we are committed to showing them that "We Have NOT Forgotten."
This article was written by Jill McNamara, Internet Marketing Coordinator at Chicago Communications. Jill has written all of the Meet Our Techs & Employee Spotlight articles for ChiComm's blog and continues to seek opportunities for similar articles. If you'd like to submit a suggestion for the blog, Contact Us!