We all know that video surveillance solutions are among the most effective security strategies for education and health care, but as systems age, it can be a challenge to cost effectively upgrade and prepare for the future, especially if you need to keep legacy systems up and running.

As security needs and technology change, many educational and health care institutions are finding it necessary to either replace their fleets of aging cameras or upgrade their functionality. Many are choosing Axis network products because their capabilities, flexibility and reliability match the needs of the education and health care sectors. Here are some of the useful features offered with Axis products:
Investing in New High-Resolution Network Cameras
Camera and surveillance technology has come a long way, in some cases providing a level of detail previously only seen on fictional TV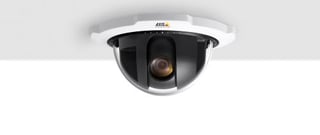 detective shows.
Officials at the University of Tulsa in Oklahoma describe apprehending a robbery suspect in just 37 minutes with the help of an Axis camera mounted inside the entrance to a dining hall.
"It was a bright sunny day, but the wide dynamic feature on the camera was able to capture all the details, from the sneakers (the suspect) was wearing to the kind of hat on his head," says William Redding, the university's assistant director of Security Technology and Card Services. "We would never have been able to see anybody through that doorway with our older analog cameras or even some of our older non-Axis network cameras."
Live and recorded high-res video from the cameras can be accessed from any authorized computer, and images can be shared directly with patrol officers or police via the web or mobile devices.
Modernizing Analog Cameras with Video Encoders
Video encoders are devices that connect to your existing analog cameras and convert the analog signals into digital streams that can be sent over any IP-based network, including LAN, internet or intranet. Encoders allow you to network your cameras – from dozens to hundreds – and view images in real time using a web browser or video management software.
Massachusetts General Hospital used the encoders to network and enhance its system of analog cameras.
"We had over 600 cameras," says Robert Leahy, senior manager, systems and technology for the hospital. "It would have been too costly to replace every one of those, but going the encoder route was such an easy deal."
To get help choosing, installing, and servicing your video surveillance solution, contact Chicago Communications today!