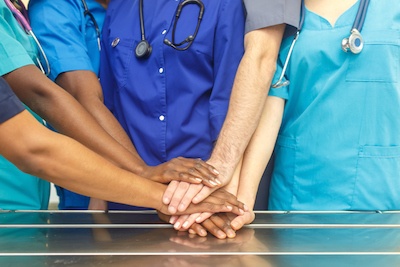 Even as ensuring secure healthcare communications becomes more complex with technological advances in the cloud, the simplest challenge still remains: how to seamlessly connect personnel on the ground.
There are questions about securely keeping people in touch that cell phones and analog radios just can't answer, from what safety features are needed to how to protect patient privacy.
As the ailment threatening secure healthcare communications become tougher, let's take a look at why digital two-way radios are the best cure.
Symptom: Limited Reach and Reliability
In countless situations, analog radios and even smartphones have been among the appropriate ways to keep hospital personnel in touch for secure healthcare communications. But as hospital facilities have expanded, healthcare systems have merged and spread out, and physical challenges such as medical equipment and older buildings have persisted, those older radios and cell phones haven't been able to keep up.
The cure: Digital two-way radios, paired with a wide area coverage solution such as Motorola's IP Site Connect, drastically expand radios' reach and reliability. IP Site Connect can link users across 15 different sites using a standard IP network, allowing radios to overcome physical barriers like tunnels, parking garages and even hospital equipment that might interfere.
Digital radios by themselves have better audio, better coverage and longer battery life than cell phones or analog radios, and, as you'll read below, they have a range of special safety features.
For healthcare users not ready to make the transition to digital radios for their full fleet, a gradual switch is possible with devices that operate as both analog and digital. And to unify teams that use radios with those who don't, solutions like Motorola's WAVE Work Group Communications enable push-to-talk (PTT) for cell phones, tablets, laptops, desktops and even landlines.
A tailored digital radio solution for healthcare can improve communications for everyone, breaking down both physical and departmental barriers.
Symptom: Not Enough Safety Features
Medical personnel and others in charge of secure healthcare know better than anyone that when lives are on the line, seconds matter. To succeed, patients need highly trained people, coupled with carefully curated technology.
And it isn't just patients who need protection: According to the International Healthcare Security and Safety Foundation, violence against employees by clients and patients accounts for 90 percent of all assaults in hospitals.
The cure: There are a variety of digital two-way radio features intended for everyone's safety, including both radio users and the people who depend on them.
Safety features for secure communications equipment include:
Push-to-talk (PTT)
Group communications capability
Emergency call features
Lone Worker
Man Down
GPS
Interoperability with outside first responders
Freedom from cell towers, landlines and dead zones


Symptom: Need for Discretion and Cost Savings
The cure for discretion: In areas of the hospital where quiet is key, several digital radio capabilities and accessories come in handy, including:
Text messaging
Covert mode,

which turns off the radio's display, visible LEDs and audible tones

Vibrate alert that silences alarms.
The cure for high cell phone bills: Switching users from smartphones to radios means no more monthly payments or reimbursements to mobile carriers for usage fees.
A Clean Bill of Communications Health
Digital two-way radios aren't just a high-tech way to connect, they're a must-have resource for secure healthcare communications. Reliability, safety and privacy are just three of the assets that radios deliver, curing much of what ails healthcare settings struggling with communications.
With the right combination of personnel and technology, the prognosis is good.