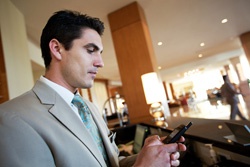 Motorola Solutions periodically conducts surveys to gather insights and feedback as part of its effort to continuously improve wireless communications for users and teams. The 2016 Commercial Survey collected input from 1,200 business and industry participants, "the largest single group of whom currently use two-way radios," according to the company.
Respondents identified six wireless communications priorities they said would improve team efficiency, productivity and safety: Performance, Ruggedness, Voice & Data, Instant Work Group Communications, Application Integration and Interoperability.
Let's take a closer look at each of the top six priorities for team wireless communications.
Respondent Overview
The 1,200 respondents from across the United States and Canada included executives and business owners, as well as professionals in IT, engineering and operations. All identified as primary decision-makers or influencers regarding wireless networks, devices and applications.
Of the responses, 75 percent were based on a blind survey in which participants weren't told that the questions were being asked by a specific company or industry.
Respondents' industries were:
Manufacturing: 24 percent
Hospitality: 11 percent
Transportation & Logistics: 10 percent
Utilities: 10 percent
Construction: 10 percent
Retail: 9 percent
Mining, oil and gas: 7 percent
Other: 8 percent
Priority 1: Performance
Survey participants said their number one criteria for choosing a push-to-talk (PTT) solution was performance (89 percent), followed by ruggedness (86 percent), ease of use (82 percent) and low cost (80 percent).
Industries choose PTT solutions such as two-way radios and applications such as WAVE Work Group Communications to allow workers to connect, quite literally, at the touch of a button.
Priority 2: Ruggedness
Two-way radio users who are doing hard work in harsh conditions need communications equipment that can keep up, with 83 percent saying that it's very important or extremely important for their devices to be purpose-built.
Some of the ruggedness requests included resistance to drops, harsh weather conditions, water immersion and dust.
Priority 3: Voice & Data
In addition to durability, users also want their PTT devices to deliver on data, namely the ability to integrate with workflow applications to manage staff, maintenance requests, customer service and dispatch operations.
The top applications included: text messaging and alerting (76 percent), work order and job assignment (67 percent) and GPS and location tracking (65 percent).
Priority 4: Instant Work Group Communications
Almost 80 percent of radio users and 66 percent of all survey respondents said fast, immediate group communication is important to their industry. More decision-makers recognize that seamless one-to-many communications is just one more reason to choose two-way radios over cell phones.
Priority 5: Application Integration
A large percentage of respondents reported using the WAVE Work Group solution to instantly connect two-way radio users to workers on smartphones, tablets, laptops and land lines.
Sectors most likely to use WAVE included hospitality, education and transportation.
Priority 6: Interoperability
Interoperability, or the opportunity to connect users across different kinds of devices, was very or extremely important for 76 percent of radio users. It was within the top three criteria for choosing a PTT solution for education, hospitality, transportation and logistics respondents.