Manufacturing communications may be one of the most misunderstood parts of the diverse manufacturing vertical. People either underestimate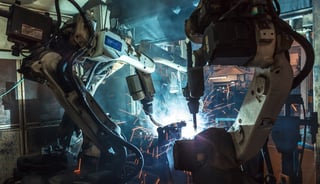 the reliability and enhanced functionality of radios for manufacturing, or they don't fully appreciate how effectively wireless communications can increase uptime, productivity and safety.
Given the dynamic needs of the sector, technology provided by one-way paging or cell phones just isn't robust enough. Two-way radios and other wireless solutions are key.
With that in mind, here are the seven most misunderstood facts about manufacturing communications.
1. Wireless Communications Reduce Downtime and Increase Productivity
Workers who are able to immediately communicate with each other at the push of a button respond to issues more quickly, reducing downtime, and coordinate more effectively, increasing productivity.
No more waiting for someone wearing ear protection to hear and respond to a maintenance page. And no more idle time as messages make their way from one department or location to another.
2. Radios are Durable Enough for Manufacturing
When Illinois gas company Aux Sable expanded its processing plant, it also enhanced its MOTOTRBO digital radio system for regular employees and contractors.
Anselmo Hernandez, Jr., process supervisor for Aux Sable, describes the radios as "very durable."
"They get thrown on the truck, on the ground, into tool buckets," Hernandez says. "We have personnel who work at heights and have accidentally dropped them 20 to 30 feet, and the MOTOTRBO radios hold up."
3. Maintenance is a Must
Once a manufacturing communications solution is in place, it's tempting to believe that the work in equipping workers is done. But installation is just the beginning.
Preventative maintenance, diagnostics and monitoring are necessary steps in maximizing an equipment investment. A service contract with your wireless communications provider will ensure that your system is consistently upgraded, running efficiently and always ready when you need it.
4. Even Contract Workers Need Training
Everyone who relies on your manufacturing communications equipment, whether they're full-time employees or contractors, should be fully trained on how to use it safely and effectively.
Training will protect the equipment, and more importantly, properly prepare workers in case there's an accident or emergency.
5. Noise is Not a Problem
Motorola, maker of the MOTOTRBO series, notes that the radios the company produces for manufacturing have the same special features as those made for public safety agencies, including noise-cancelling technology and Intelligent Audio.
With Intelligent Audio, the MOTOTRBO digital radios monitor background noise and automatically adjust the speaker volume so that workers can focus on the job at hand.
6. Workers Can Connect Wirelessly Across Devices
Motorola's WAVE Workgroup Communications allows workers with radios to immediately connect via push-to-talk (PTT) with smart phones, laptops, tablets, and landlines.
Connections can be made on any public or private mobile data network, including Wi-Fi. Manufacturing technology has evolved tremendously when it comes to wireless communications.
7. Radios Enhance Safety
Both Motorola and Vertex Standard two-way radios are outfitted with worker safety features, including the Man Down application and Lone Worker function.
Man Down works with both brands, and radios can be preset to automatically sound an alert if they're tilted at a precarious angle (from 20 to 90 degrees) for a period of time, suggesting that the wearer has fallen.
The alerts on the Motorola MOTOTRBO Lone Worker feature are triggered by user inactivity if the wearer doesn't interact with the radio for a preset period of time. With the Vertex Standard Lone Worker function, once the radio wearer activates Lone Worker, they're reminded to "check in" every five minutes by pressing the PTT button.
To get the technology your staff need for critical communications, contact Chicago Communications today.