With two new additions to the MOTOTRBO portfolio, Motorola Solutions is delivering the future of professional two-way radios and repeater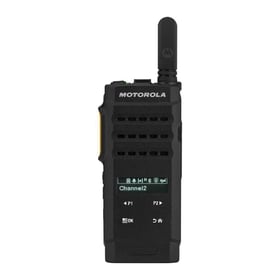 technology today.
The new SL3500e portable radio is a study in contrasts that's been designed for business users: It's small but powerful, sleek yet durable. The SLR 1000 repeater also packs range-extending punch in a compact design.
Let's take a look at both products that represent the future of professional two-way radios and repeaters.
'Perfectly Suited for Business'
Motorola describes the new SL3500e portable radio as "perfectly suited for business" with a slim profile that looks at home with office attire in a way that bulky traditional radios might not. At 23mm and 6.7 oz., it's roughly half the size of some other devices in the MOTOTRBO family.
Features include:
Virtual keypad and display

Ability to connect with Bluetooth earpieces and sensors

Integrated WiFi


Can be used on trunking systems that support data and voice

Updates can be sent over the air
Uninterrupted Coverage
The SLR1000 repeater extends radio range to bring dead zones back to life and connect remote locations. And don't let the small size – 10 pounds – fool you about its capabilities.
Features include:
IP65 rating for water and dust protection

Easy installation: Can be installed indoors or outdoors

Fanless design

Doesn't require cooling from HVAC

Can be used with conventional and trunking systems that support voice and data

Scalability: can grow as your needs grow
Good Things in Small Packages
Both additions to the MOTOTRBO portfolio of professional two-way radios and infrastructure prove that good things – and big advances – can come in small packages. Their versatility also demonstrates why more businesses, industries and verticals are choosing two-way radios over cell phones. And why existing users are making the smart switch from analog to digital.
For help selecting, installing, and servicing the perfect system for your workforce, contact Chicago Communications today!