First responders are life savers and providers of help in often dangerous situations. So it's easy to think of them as operating on their own or just with a partner.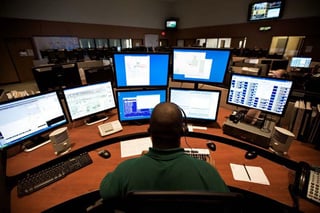 In reality, the dispatch center communicating with a first responder connects them to a whole team of other individuals and systems that are critical to doing their job. When first responders speak to a dispatch center with their mobile or two-way radios, they're bringing a whole public safety team with them.
When police, emergency medical, and fire units communicate with each other, the various channels of communication technology need to be centralized so that a single trained professional can follow protocols and deploy the right resources to handle the specific emergency at hand.
Dispatch Center Logistics
When requesting backup or support from a dispatch center, first responders rely on operators who have the responsibility of juggling units from different public safety departments (police, fire, EMS) to the most emergent situations in the vicinity.
Emergency communication centers are called public safety answering points (PSAPs), and they're crucial to keeping agencies and different departments from various jurisdictions connected.
Dispatch center operators are equipped with consoles that have the capacity to receive hundreds of calls a day. They're fully trained to determine the situations in which they can send a fire unit to a different location than the one they had originally set out to, for example.
Dispatch consoles are designed to be operated from the station, and they offer the highest levels of usability for both radio, Voice-over-Internet Protocol, and telephone lines. This way, operators can handle all incoming data when required, whether the communication arrives over police or firefighter radio frequencies.
The Future is FirstNet
A range of new public safety communications equipment is joining the police radio in connecting first responders to dispatch centers. With FirstNet changing the way we think about police equipment by giving public safety departments more access to shared data and digital resources, dispatch centers will play a central role in using and analyzing those resources to deploy first responders.
The website Government Technology imagines a scenario in which an emergency in progress is being captured on video on an officer's body camera. That video is streamed to the dispatch center, where an officer uses that real-time visual data to decide whom to send, and when, and to give directions that enable officers in the field to take the most effective action.
While many localities are enacting or considering 911 consolidation strategies, dispatch centers will continue to be critical to effective first response.