Summer in Chicago! Festivals, Beaches, Parades, Markets and ………Two Way Radio?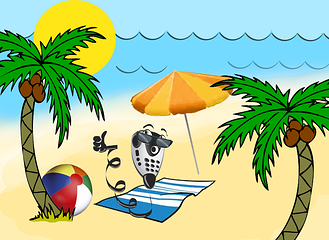 Yes, Two Way Radio. It's everywhere, just think about it.
You're at the beach, the Life Guard talks with another Life Guard down the beach, does he yell? No, it's a two way radio used to speed up response times.
You're at your favorite parade. Thousands of people, float after float, bands marching-- how do they keep it moving? How are they keeping the path secure? Two Way Radio!
How about the ball game? Security staff keeps the crowds in check with two way radios.
The Chicago Air & Water show is around the corner already, too! Another occasion for an overflowing beach. Great time because of great crowd control. Made possible again, by T-W-R!
Every time you hop on the "L" or take a bus via the CTA, it's not cell phones being used to communicate between transport and dispatch. The instrumental persons involved on every vehicle are using a really large Two Way Radio system. Above and below ground, that's how communications are kept.
Chicago Police and Fire: Not one, but many Two Way Radio systems. Because in a life and death situation there's no time to stop, pull out a phone, unlock the screen, dial a phone number, listen to it ring... just to hope someone answers. It's the push of one secured button that first responders and public safety officers rely on.
Whether people own the radios, rent the radios or buy them from a radio shop, people need instant communications. Not cell phones, even those are too slow. Not cell phones, since they only allow one to one conversations when you actually need one to many. Not cell phones, when too many people in an area can create overload the system, preventing you from having an urgent conversation.
It's two-way radios that work behind the scenes as the critical means to keep operations in motion. That's the message here, loud and clear!
-Mike R. Phone

This has been another message from a member of ChiComm's FREQ Squad.
Ever heard the phrase, We like Mike? Well Mike's a fun, easy-going guy who has the mobile ability to get around town--whether in a squad car, subway car or taxi cab! He's always on the go, from one mobile site to another, working to save the day when he can. Thumbs up from Mike means things are A-ok. We like Mike and hope you will too.Meet Mike R Phone!! Known for saying: "10-2 , I hear you loud and clear! (Thumbs up)"
Have No Fear, The FREQ Squad Is Here!


If you haven't already heard, the FREQ ("Freek") Squad are now part of ChiComm's team. They'll be popping in every now and then on the blog to give you helpful hints and tell you about the latest happenings for all things 'freq-y & geeky'. They'll be sharing valuable information related to two-way communications equipment & accessories, important announcements about products, promotions, regulations and answers to frequently asked questions. For bio's on each member click here. They also have their own twitter handle:@ccFREQsquad
For help with wireless broadband, get a lesson from Barry Broadband. For all two way radio (but especially digital), reach out to Tommy TwoWay. For help with indoor & outdoor coverage for radios OR cell phones, AnnTenna is at your service. Speaking of SERVICE, Millie Watt is our specialist in that department, plus she's full of many other bright ideas!
Have other questions about broadband, digital radio, or narrowbanding? Use the comment box below or read other articles that have answers to many FAQs!