Several studies looking at technology in education have produced some troubling results, according to a recent news article, suggesting that access to computers and online coursework aren't necessarily effective at helping students learn – not yet anyway.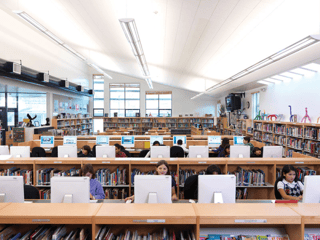 The three studies were wide-ranging and covered K-12 and higher education, as well as blended learning and online, in the United States and abroad. Let's take a closer look at the findings.
Organization for Economic Co-operation and Development Analysis of Computer Access
In the fall of 2015, the OECD published an international analyses of student access to computers that was the largest done to date, covering literally millions of high school students in dozens of countries.
Researchers asked the students about their access to computers both in the classroom and at home, then compared their answers to scores on the 2012 PISA test, an international academic ranking.
The findings, in summary: "Students who use computers very frequently at school do a lot worse in most learning outcomes, even after controlling for social background and student demographics."
And less frequent computer use was found to be only moderately positive.
A Look at 'Adaptive Learning' Software
The second study was conducted by a research firm called SRI at the request of the Bill & Melinda Gates Foundation. It looked at college courses in the U.S. that are using so-called "adaptive learning" software in blended courses.
"Adaptive learning" uses computers to adapt educational material according to students' individual learning needs, and its methodology brings together fields of study including computer science, education, psychology and brain science.
SRI researchers looked at course grades, course completion and scores on common assessments for 19,500 students across 14 colleges.
These findings, in summary, according to study co-author Louise Yarnall: "We saw no effects, weak effects, and modest positive effects."
High-Achieving Eighth Graders Take Algebra I Online
In the third study, eighth graders across North Carolina who were identified as "high-achieving" did about a third of a letter grade worse in an online Algebra I class than their counterparts who took the class in person.
The findings, in summary, from author Jennifer Heissel, a doctoral student at Northwestern University: "There's not a lot of cases where you see these big of drops in high-achieving students. Usually you can throw a lot at them."
Technology in Education We Know Works
While there is clearly still work to be done in making sure technology in education is helping students learn, there is some technology that we know aids in education: the communications technology that's keeping students and staff safe.
Using technology to run a safe, effective school has never been easier thanks to two-way radios and other communications advances that are more reliable, secure and durable than cell phones. Across the country, everyone from administrators to transportation staff are using radios to keep in touch in real-time and secure instant connections to public safety agencies during emergencies.
And finances don't have to stand between schools and life-saving communications technology, with school safety grants available to help individual schools and districts get the equipment they need.
To get a free estimate on the best communications solution for your school or school district, contact Chicago Communications.