The research is clear: School safety is not just a security issue, it's an academic one. Students learn better and have better academic achievement when they're confident in school safety and feel safe on school property.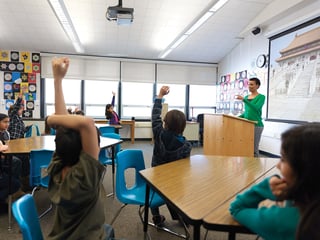 Here we'll take a closer look at one survey on the issue and review some options for technology – and financial assistance – that schools have for making their campuses more safe.
Survey Links Safety and Standardized Test Scores
A 2012 study entitled "Too Scared to Learn? The Academic Consequences of Feeling Unsafe at School" makes a compelling case for improving school safety by linking feelings of safety with performance on standardized tests.
The survey included the "reported feelings of safety" of more than 340,000 students every year from 2007 to 2010 in more than 700 middle schools in New York City. According to the author, the survey covered 80 percent of the middle school students in New York at the time.
In all, 82 percent of students surveyed strongly agreed (37 percent) or agreed (45 percent) with the statement "I feel safe in class." On the other hand, 15 percent of students surveyed disagreed (10 percent) or strongly disagreed (5 percent) with the same statement.
Students who reported feeling safe had higher scores on math and language arts standardized tests than students who reported feeling unsafe, and they were less likely to miss school. The survey notes that better attendance is tied to better school performance overall and stronger academic performance.
The survey has been one of the largest of its kind to so strongly link feelings of safety with student performance.
Technology and Grant Options for Improving School Safety
While more research is under way about how to reduce the violence and other incidents that make students feel unsafe, educators and administrators are well aware that technology is part of the key to unlocking school safety.
In the 2015 Motorola education survey of 902 educators in 48 states, 97 percent of the respondents and 99 percent of administrators said safety and security for staff and students is their top priority. And equally high numbers say that they believe having "always available communications" for emergencies is important: 96 percent of all respondents and 99 percent of administrators.
School officials reported that they have the desire to invest in technology but not the dollars: 47 percent of respondents in the Motorola survey said cost is a barrier to upgrading communications.
The situation highlights the importance of school safety grants. Grants can help individual schools or school districts pay for a range of new or upgraded communications technology, including two-way radios, video surveillance equipment and more.
Motorola's Grant Assistance Program helps with the application process for school safety grants to purchase two-way radio systems and the SchoolSAFE product that ensures interoperability between school radio systems and public safety radios.
Motorola offers grant alerts, grant research, reviews of narratives and other application assistance.
To get a free estimate on the best communications solution for your school or school district, contact Chicago Communications.