In Illinois, STARCOM has made statewide radio for public safety a reality, bridging communications across local, state and federal jurisdictions,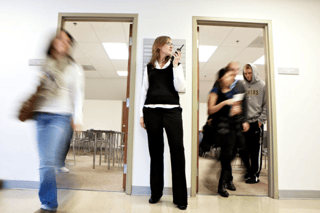 including colleges and universities.
Given the importance of two-way radios as a top communication tool for school safety and even school bus safety, it makes sense to maximize their reach with a system like STARCOM, also known as STARCOM21.
Here's a quick overview of what stepping up campus security with statewide radio for public safety looks like.
What is STARCOM?
STARCOM provides statewide radio for public safety across Illinois through a public-private partnership between Motorola and the state.
The network allows first responders, law enforcement, emergency management and other agencies to talk to each other from almost anywhere in the state.
Why Deploy STARCOM on Campus?
STARCOM21 membership gives college and university police departments access to the interoperable communications network used by other public safety agency responders during emergencies and school security incidents.
All of us are aware of the tragic consequences when responding agencies can't communicate with each other, and the network seamlessly removes that barrier.
Who is Using STARCOM?
Personnel at colleges and universities across Illinois already make up some of the 45,000 current users who also include the Illinois State Police, the Federal Bureau of Investigation, cities and counties.
What About Our Budget?
STARCOM's administrators understand the budgetary constraints facing public safety and education users.
Costs include deployment expenses and a monthly service fee, but the savings are substantial: Members can access pre-negotiated deals to buy two-way radios and other equipment.
How Do We Join?
If your campus is interested in taking a step toward enhancing safety in schools and learning more about becoming a STARCOM member, contact us today. If you're ready to subscribe, we can discuss the easy application process.