In finding the perfect school WiFi and radio solution, schools face many challenges, including funding -- a situation that's at the heart of the federal E-Rate program to make telecommunications and information services more affordable for schools and libraries.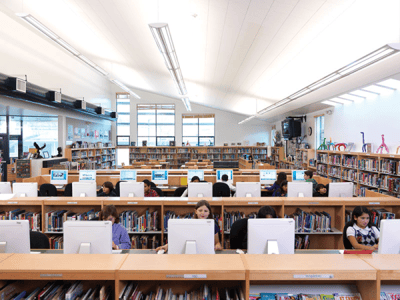 E-Rate, the government's largest educational technology program, was first mandated by Congress in 1996 and implemented by the Federal Communications Commission (FCC) in 1997. Starting in 2014, the FCC launched two major modernization efforts to reallocate funding where it's needed most to close the WiFi gap, particularly low-income rural and urban schools and libraries. The modernization also shifted money away from voice, paging and non-broadband legacy systems.
How E-Rate Works
The E-Rate program provides discounts ranging from 20% to 90% on services such as internet access, managed internal broadband, telecommunications and telecommunications services to eligible schools. Higher discounts are provided to more economically disadvantaged schools, and each school is responsible for paying some portion of the total cost of the service.
According to the FCC, in 2014, some 63% of public schools – with more than 40 million students – didn't have broadband connections that could keep up with targeted speeds. The modernization effort was expected to expand WiFi to more than 10 million students in 2015 alone.
"In an FCC survey of E-rate recipients, nearly half of respondents reported lower speed Internet connectivity than the average American home - despite having, on average, 200 times as many users," the agency reports.
How to Apply
There are three key steps for schools interested in participating in the E-Rate program:
After deciding what E-Rate supported services they need, schools submit a request for competitive bids for those services to the Universal Service Administrative Company (USAC), an independent not-for-profit corporation contracted by the FCC. The bids are posted on the USAC website, and a bidding process is held with qualified vendors.
The ideal vendors are those like Ruckus Wireless who are familiar with the E-Rate program and the unique and quickly evolving technology needs of education.
After reviewing the bids, the school picks its preferred vendor and submits an application with the desired services to USAC.
USAC issues funding commitments to the eligible schools. Once the services are delivered, the vendor or the schools submit requests for reimbursement of the approved discounts to USAC.
What does 'WiFi' stand for? Find out here!
To find the perfect communications solution for your school, contact Chicago Communications today!