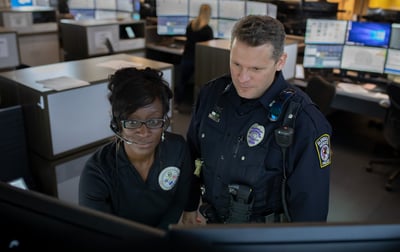 Since 2018, the Verizon Public Safety Network has offered an effective way to bolster cell phone performance for first responders and other public safety officials. With the network in place, these responders and officials get prioritized service and greater security, flexibility and reliability.
More recently, the Verizon Public Safety Network was enhanced by the public safety private core. The private core is a separate internal system being implemented for public safety only.
About the Technology
Connected to Verizon's Radio Access Network, which uses spectrum in various bands including the 700 MHz, 800 MHz Cellular, 1.9 GHz PCS, and 1.7/2.1 GHz AWS bands, the private core provides public safety customers with multiple features for safety. These features include traffic segmentation, priority and preemption, improved security, and enhanced service management and control.
Essentially, the core separates the data traffic of public safety mobile users from the traffic of commercial users. Their data is immediately recognized as concerning public safety and thus is given priority access at the tower and through the network.
The technology is key to keeping and retaining various towns and villages on Verizon, which is the chosen provider of many Chicago area residents.
"This enhanced core will allow Verizon to compete and give first responders priority over the general public for critical emergencies," says Chicago Communications Director of Sales Tom Treichler. "Being part of this network will bolster emergency response in our area and ensure that public safety personnel can get and stay connected."
History of Two National Networks
The Verizon Public Safety Network is one of two dedicated first responder networks that went live in 2018.
In developing the technology, Verizon competed with AT&T, which was awarded a federal contract through Firstnet, the First Responder Network Authority, to produce a Public Safety Broadband Network. In doing so, AT&T had a five-year timeline to build out this system across their network. With that, the government was to allocate 700MHz radio spectrum to help the carrier expand its bandwidth and capacity. In response, Verizon, although not awarded any spectrum, took it upon themselves to build out a similar system with their own spectrum.
Both Verizon and AT&T had already had capabilities such as priority services and preemption, but the core deployments further activate and securitize their separate networks and offer enhanced communication and services.
Priority and preemption services are critical in times of disasters and emergencies. The functionality makes sure first responders and other safety personal have a dedicated network and can communicate without interruptions over an "always-on network." In addition, the network can boost priority levels, ensuring first responder calls get through when others can't. This type of communication is essential when it comes to:
Reuniting families
Getting real-time updates
Improving situational awareness


This technology is in line with Chicago's other services for public safety, such as two-way radios and 911 Communications Scalable Solutions, including 911 Dispatch Centers and 911 Consolidation. To learn more about the technology needed for effective public safety communications, download our free Public Safety Communications Checklist.