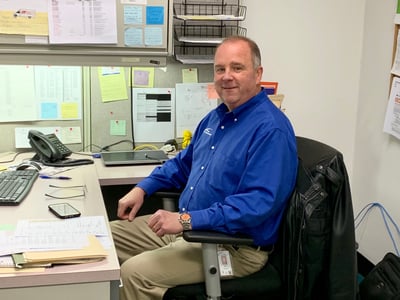 The small-company atmosphere with large-company capabilities are what Account Executive Mike Wierzba loves about Chicago Communications.
Approaching his third year with the company, Mike delivers communications technology solutions to colleges and universities in the Chicagoland and Northwest Indiana market, and to commercial customers in manufacturing, education, transportation, hospitality and health care in South Cook County, Kankakee, Grundy and Lake County.
In coming to Chicago Communications, Mike builds on a life-long career in sales. After graduating with a degree in economics from Northern Illinois University in 1986, Mike went to Keebler Company, where he worked for nine years, both in outside sales and as a district manager. He then headed to American Paging as an indirect and direct sales manager. That position led to a 16-year position at Hutton Communications a distributor, focusing on communications and communication infrastructure outside sales covering 12 states.
Mike then worked for a year and a half at PCTEL in outside sales, primarily focused on selling small cell equipment to Verizon. Finally, he spent eight months at the start-up Precision Tower Products selling tower structural steel and bolt reinforcement products.
This broad experience put him in the ideal position to join the sales team of Chicago Communications, where he says he's found a multitude of very helpful, knowledgeable people who all strive to make each other better.
Mike's Proudest ChiComm Moment
Mike takes pride in the people, value, and technology of Chicago Communications. And he says his proudest moment was when he first started seeing sales from his relationship building and cultivation efforts in a territory that had been unreached and underdeveloped.
He says he takes pride in the new customers he has brought on board and the role he's played in helping them achieve their goals. He says he truly takes an interest in their needs and is driven to provide the best possible solutions to their problems.
"I really work hard to make sure my customers have what they need when they need it," he says. "And I am extremely focused on making sure things are done correctly right out of the gate."
All This, Plus Chili!
In addition to being a seasoned sales professional, Mike has been a proud winner of Chicago Communication's annual chili contests, with a first place followed by top-three finishes.
In his free time, Mike loves doing home improvement projects, cooking and tending to his vegetable garden in the summer. Although not as often as he would like, Mike also enjoys golfing and shooting his .38 at the range. He has been married for 31 years and has two great kids both in their 20s—a son who is in accounting for a major hotel chain and a daughter who is a nurse at a children's hospital in Wisconsin.
The three things Mike wouldn't want to live without? A hot tub, chicken wings and good family and friends.