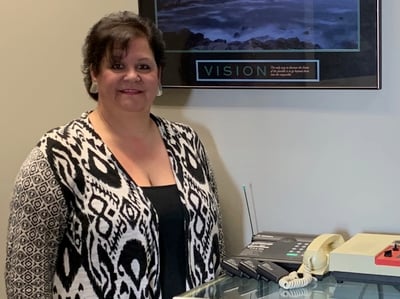 Creativity, project management, and the sense of accomplishment that comes from seeing a production through from start to finish: These things have motivated Account Executive Cathy Kulnig both at Chicago Communications and throughout her extensive background in theater and performance.
While people might not think selling communications technology and a degree in theater go together, Cathy's 20-year career with Chicago Communications shows the combination is a perfect fit.
"It's about thinking on your feet," Cathy says. "And it's the ability to do all kinds of different things in front of new audiences of customers. There's always something new to do, and it's gratifying to do them successfully."
Being able to employ these talents is why she loves working for Chicago Communications.
"I like taking things from nothing and building a system that makes a difference. I want my customers to partner with me to create something that's going to work for their everyday needs and fit their budget," she says. "That's my specialty. I love helping people."
This specialty started when Cathy came to Chicago Communications after graduating from Columbia University in Chicago. She spent her first five years at Chi Comm in the paging and cellular arena and she now focuses on selling Turn-Key Wireless and Two-Way Communication Solutions.
Throughout her career at Chi Comm, she has worked consistently in the theater industry, doing everything from summer stock, to casting, to acting in film and TV, to makeup for some of Chicago's opera houses. While theater is her first love, she values her career and professional field at Chi Comm and the opportunities to play one of her most important roles: A partner in building communication solutions for her customers.
"I like the freedom to create and design a New Wireless Communication System with my customers. It is always challenging, new and exciting building a system to improve a customer's operations, safety and budgets. This is very gratifying."
As far as Chicago Communications, Cathy loves how it's like a big family. "People are always helping each other, and you always have someone to go to for guidance and support."
She's also proud of the "good things" Chi Comm participates in, whether it's supporting underprivileged kids or empowering staff to volunteer for food pantries and helping the community. On a broader level, she feels good with every communications solution she helps design and implement. "We know they are quality systems with reliable equipment, and we hope we will make a difference."
What would Cathy like Chicago Communications customer to know?
Cathy says, "I hope my customers know how dedicated we are to delivering communications systems that allow them to be productive, to prosper and to create a safe environment.
"I want them to know they can call me anytime, and I'm a valid partner," she says. "I'm not just going to sell them a piece of equipment. I want to be a valued partner and be a part of their development and their successes."
True to her passion, in her spare time Cathy enjoys going to the theater, watching her son play sports, going to sporting events, and singing. In fact, she has performed the National Anthem multiple times at Wrigley Field.
And the three things she says she wouldn't want to live without? Her family, her religion, and of course, theater.