When it comes keeping workers safe, especially those working alone, tools like the man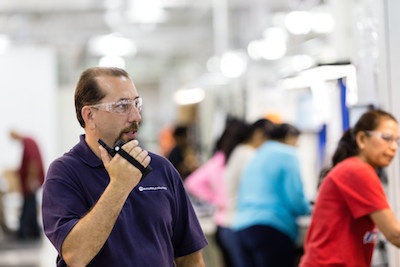 down radio application are essential for ensuring quality and timely communication.
Once you've worked with one of your area's trusted two way radio service providers to equip your personnel with radios, it's time to activate the safety features for those who are on duty alone or who operate in isolated areas.
Motorola two-way radios are outfitted with various features intended to ensure worker safety and increase peace of mind, including the Man Down radio application and Lone Worker function. Here's a closer look at both.

The Risks of Working Alone
Consider this scenario:
Your company has a lone worker operating third shift, and he is on site to review all systems to ensure everything is working properly. An alarm goes off, and on his way to review the issue, he slips, falls and bumps his head. Not only is there now concern over the worker's well-being, there is no way to check the status of the alarm he was responding to.
Clearly, best practices for worker safety call for some kind of safeguard in case a worker is rendered unconscious or unresponsive. Which is where Motorola MOTOTRBO Man Down comes in.
The man down radio application is ideal for this scenario because it allows a single operator to automatically notify someone that he is in trouble, even if he is unconscious from a fall or accident.
How Man Down Works
In this scenario, the operator is carrying a radio with Man Down attached to his belt.
The application, using Motorola MOTOTRBO technology, monitors workers by detecting a lack of movement or horizontal tilt. The application

can be configured for those jobs that require positions other than the common up-right standing one.

If he falls, a timer within his radio starts a clock.

Once the first 15 seconds pass, a chirp is heard on the radio to notify other radio users that there is a possible alarm situation.

If the worker is OK, they can reposition the radio or disable the alert without an emergency signal being sent.

If 60 seconds go by and the worker has not turned off the notification, a message is sent out to a corresponding party to notify them that something has gone wrong and that the operator monitoring the systems is unresponsive.
The Benefits of Man Down
Now, a team member who is working out of sight has assurance that if something were to happen to them, someone would be automatically notified and come to their aid. This allows workers the additional confidence they need to complete their jobs safely and efficiently.
The automatic alert streamlines the emergency response process and removes the possibility of workers who are unresponsive going hours without being found or tended to. This ensures they receive the attention they need as soon as possible and everyone remains safe. If the worker is down but not injured, the notification will still send and notify others that an incident did occur.
How Lone Worker Works
Unlike Man Down, the alerts on the Motorola MOTOTRBO Lone Worker feature are triggered by user inactivity.
If the wearer doesn't interact with the radio for a preset period of time, say 10 minutes, a pre-warning tone will go off, signaling that it's time for him or her to reset the timer by using the radio in some way, by pressing a button or adjusting the volume. If the user still doesn't interact with the radio, an emergency call will be initiated.

The Vertex Standard Lone Worker function also tracks user activity but operates a bit differently. Once the radio wearer activates Lone Worker, they're reminded to "check in" every five minutes by pressing the Push-to-Talk, or PTT, button. Checking in lets others know that all is well.

If the user doesn't check in, the radio will automatically transmit an emergency alert that help is needed. The radio's microphone also stays engaged until help arrives, letting other users hear what's happening in the area. The function can be set for anywhere from five to 80 minutes, with the reminder going off every five minutes.

Peace of Mind for All
By using a radio solution with Motorola MOTOTRBO Man Down or Lone Worker, your company can take another step to ensuring worker safety and peace of mind for colleagues and supervisors, alike.