During an emergency, seconds can feel like hours, especially when it comes to locating workers to make sure they're safe or dispatching help when they need it. Eliminating any blind spots in your ability to track employees cuts both your response time and precious time spent looking for workers who don't need assistance but can't immediately be found during an accident or emergency.
The new Real-Time Location System (RTLS) Indoor & Outdoor Positioning System from Teldio for Motorola MOTOTRBO radios blends Bluetooth technology and GPS to give up-to-the-minute information on workers' locations via a web browser that can be accessed on a computer or mobile phone.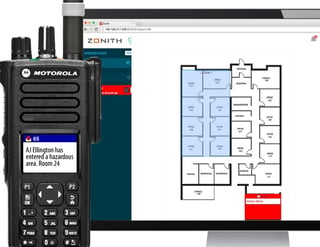 From indoors…
For indoor coverage, RTLS can be installed in a variety of configurations to track workers' movements around a facility as their synced Bluetooth device pairs and unpairs at known locations and transmits their last location.
Placement of the beacons can be customized to best meet the needs of your workforce, and can be plugged into a standard electrical outlet or Power over Ethernet (PoE). Overall, the software application doesn't require much infrastructure and can leverage an existing LAN, keeping costs low and confidence high.
…To outdoors
RTLS's outdoor GPS component functions similarly to a local positioning system – but one that tracks people in a pre-defined, geo-fenced area. To avoid gaps in coverage as workers travel inside and outside of facilities, the MOTOTRBO two-way radio automatically switches back and forth from Bluetooth pairing to GPS monitoring.
For supervisors and dispatchers, the intuitive web interface offers a map-based view of workers' placement in and out of buildings, and each user can be identified by name or radio ID.
Imagine being able to instantly locate workers:
During an emergency;

If they've hit the panic button on their MOTOTRBO radio; or

When they've entered a restricted area or left a safe zone.
The RTLS can also be used alongside other worker safety applications – such as Man Down and Lone Worker – to ensure staff who need help are located quickly, and the nearest response team can be dispatched to them.
Man Down sends an emergency signal if a wearer's radio tilts to and remains at an angle that suggests they've fallen or become incapacitated. Lone Worker tracks radio activity and calls for help if the user doesn't interact with the radio for a preset period of time.
To meet your needs for communications technology that improves worker safety and efficiency, contact Chicago Communications today!