The hospitality industry may have been slow to pick up on some technology trends – looking at you, super-slow hotel WiFi – but it's been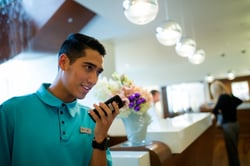 making up for lost time by leading key tech trends instead of following them.

Hotel and resort chains are competing like never before on technology that elevates guest experiences, and some options are truly over the top – the rooftop that is. From robot butlers to, yes, a rooftop rainforest, let's look at some ways the hospitality industry is stepping up its tech.
Flawless Wireless
One recent survey of 800 travelers found that fast and free hotel wireless is more important to guests than parking, location or even breakfast.
Hotel wireless has to keep up with guests who not only want to hop onto the internet quickly from their phones or tablets, they want to use them to do everything from texting for maintenance to ordering room service from their iPads. Hotels are responding with amenities such as apps that let guests select, check into and enter their rooms without ever stopping at the front desk.
Robot Staff
Hotels and resorts are using robots for a variety of butler and concierge functions, including room deliveries, translation services and to answer basic questions about the property.
Properties with robots for routine room deliveries such as coffee, newspapers and forgotten toiletries say they've cut their delivery times in half. And they say guests appreciate the speedy – and tip-free – interactions.
Rooftop Rainforest
When the Rosemont Hotel in Dubai opens in 2018, it's slated to have 450 guestrooms, 280 apartments, three restaurants, two bars and a 75,000-square-foot high-tech rainforest on its roof.
DJ Armin, a principal architect on the project, says the rainforest will include, among other things, a "prehistoric Jurassic-inspired marsh."
"Inside the rainforest, we've created a landscape akin to a full-scale tropical environment -- complete with adventure trails, a sandless beach, a splash pool, waterfalls, streams and a rainforest café," Armin says.
In case that wasn't over-the-top enough, the property also promises robots that will handle luggage.
Virtual Reality
One major chain is offering guests a getaway from their getaway with Samsung Gear Virtual Reality headsets that can be borrowed for 24 hours at a time. The devices have three pre-loaded videos that follow travelers to destinations around the globe. In the same vein, another property was offering guests a chance to try out Google Glass.
Other hotels and resorts are using virtual reality technology to offer a more immersive look at their properties for guests who are considering a visit. Rather than standard photo galleries or 360-degree panorama photos, the technology allows guests to simulate the experience of actually being there.
Don't Forget the Basics
Even if your property isn't yet ready to employ its first robot staffer, there are some key pieces of communication in the hotel industry you can have in place to ensure staff can easily keep in constant contact, guest WiFi stays fast and cell phone dead zones are a thing of the past.
To meet your needs for wifi solutions in the hospitality industry, contact Chicago Communications today!