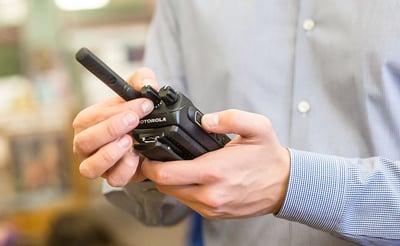 In an ideal world, no equipment would ever need to be repaired.
We certainly don't live in that world. But we do live in a world where people don't need to experience frustration and delays when it comes to two‑way radio repair.
It all comes down to service.
Service Is Everything
When a two‑way radio provider sells you equipment, they should also offer the service you need to operate that equipment optimally.
Look for a provider that has an approved Certified Service Center to ensure that your needs are being met after you purchase equipment. There are national certification programs for technicians; that's who you want looking out for you.
Even the best equipment requires occasional expert service. Changing environmental factors, wear and tear, and technological enhancements mean that your two‑way radio might need a trained technician's expertise.
The best way to do that is to guarantee service by purchasing a maintenance program.
Avoid Dangerous Communication Failures with a Service Program
If communications equipment is not properly serviced and maintained, it can lead to failures. That's more than just a hassle for customers; it interferes with mission‑critical public safety communications.
One of the best ways to avoid any interruption in service is to purchase a maintenance contract. It's a guaranteed way to increase the product lifespan and maximize your investment.
A maintenance program ensures that you receive end‑to‑end support and services for your equipment, including online and remote support, engineering services, system design, and engineering, project management, installation, and calibration. In other words, everything you need to feel safe and secure in operating your two‑way radios.
Who You Gonna Call?
Sometimes customers reach out to a contact in sales when they have a problem with a two‑way radio or another piece of equipment. Sales people are always there for their customers, but they're not the best person to contact when you need service.
Calling or emailing the service department is the quickest, most effective way to address issues that require technical support. Current Chicago Communications customers can also fill out a form here to request service.
To keep your two‑way radios operating optimally, we offer a Troubleshooting Checklist and a free download of Top Tips for Two‑Way Radio Maintenance and Troubleshooting.
If you've done the troubleshooting and checked the batteries, connections, and channels, it's time to contact the service department.
That's where you'll reach someone like Jenny Streit, a Chicago Communications service dispatcher.
Tips from Dispatch
Jenny's job is to generate service calls after hearing from customers with problems. She says the company prioritizes public safety and health care equipment such as 911 dispatch centers, police and fire departments, and hospitals. For many of these mission‑critical service calls, a technician arrives within four hours.
What does Jenny—or any dispatcher—need to know?
When Jenny gets an email or call, she will look up the customer's account and phone number so the technician can locate the person with the radio that needs service. She also asks about access information if the radio equipment is located in a remote area, or an apartment building, or water tower.
If it's not an urgent repair, a dispatcher will send a service label so the equipment can be sent in to be repaired.
"It's useful to get as much detailed information as possible," she says. "Lots of times, we'll get a call about a portable/handheld that you can clip onto your pocket. We'll do a preventative maintenance check on it. We'll put on an analyzer, which realigns the radio to factory settings. Basically, we're checking all the knobs and buttons and the screen, to make sure all that stuff is good, to determine what is not working."
She says customers don't need to have a lot of technical knowledge to be able to describe what's happening with their radios. "We have people come in and say, 'This base station is making a motorboating sound.' We know exactly what that means."
"We just need to know what's wrong. If we don't, it's kind of like going to a doctor and saying, 'I don't feel good.' or telling a mechanic the car doesn't work. In bigger systems, like police departments and fire departments, there's more places for things to be wrong. So we're hoping to get as much information as we can from people."
Removing the Hassle
The service department is your friend.
Experienced two‑way radio service providers know what questions to ask and how to address issues with equipment. They can help you send a piece of equipment in for repair, or send an experienced technician out to repair a radio without delay.
They have compassionate dispatchers and trained, certified technicians who are familiar with the common—and uncommon—problems and challenges customers face.
And they're never more than a phone call or email away.