Coordination & Solid Communications are Crucial to Events Success
2013 marks the 26th year of the Little Angels Pledge Run, a fundraising event that has become the lifeline for the Little Angels Center for Exceptional Care. On May 19th this year the Little Angels invite you to jump on your bike and roar through 80 miles of rolling countryside in Northern Illinois. And they don't mean ride 80 miles on your typical mountain bike, they're talking about gliding the course on a bike with a lot more power- a motorcycle. You'd be joining between 1,500 and 2,000 other motorcycle riders that gather at the Woodstock Harley Davidson every year to support this great cause.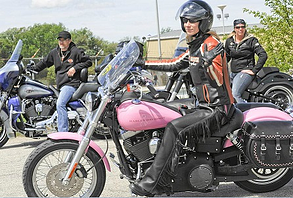 The Little Angels Center is a loving home for children and young adults with severe disabilities and complex medical needs. It is a state-of-the-art facility offering round-the-clock skilled nursing, therapeutic and habilitation services in a warm, caring environment. The reason this event has become so important is ever since the mid-1990's, Medicaid reimbursements have been frozen and state funding is in poor shape. With the cuts and delayed payments for specialized care, this event brings in the money to pay for programs and services that are a necessity to keeping their doors open. The extremely dedicated volunteers who make up the Elgin Area Organization of Motorcycle Riders have been responsible for keeping this event successful for the Little Angels all these years.
The LA Pledge Run has grown into one of the Midwest's largest and longest running single-day motorcycle pledge events and for the past 15 years Chicago Communications has donated the two way radios and headsets to the committee that keeps this event running smoothly. "It is unbelievable the amount of coordination that goes into an event like this. The radios are instrumental for our communications, especially because they connect people from all different areas across the event grounds," says Mary Jean Adkins, Director of Development of the pledge run. The radios are spread amongst the registration, security, parking & general grounds committee members, each greatly contributing to the safety of participants and the event's success.
The pledge run is an all-day event, with registration and activities starting as early as 9am. The ride usually starts around 10am and there's an after party back at the grounds from 1-5pm with food, music and entertainment for everyone who participates. Not to mention the 1st place raffle prize is a Harley Davidson motorcycle (2013 Ultra Classic Electra Glide OR $10,000 in cash). Mary Jean explains, "We take very good care of our participants but it takes a LOT of coordination to keep nearly 2,000 bikers happy. The radios make it all possible." She adds, "And as far as working with Chicago Communications goes, the experience has been 100% positive. They are professional, easy to work with and everything is always delivered as promised. For us to work with them again is a no-brainer."
Thanks to Little Angels for being a loyal customer to our rental department all these years! For more information about the Little Angels Pledge Run, click here.
This article was written by Jill McNamara, Internet Marketing Coordinator at Chicago Communications. Jill has written all of the Meet Our Techs & Employee Spotlight articles for ChiComm's blog and continues to seek opportunities for articles relating to the two way & wireless communications industry. If you'd like to submit a suggestion for Jill, Contact Us!