Ensuring state-of-the-art technology in schools isn't just about about the educational benefits, it's also about school safety.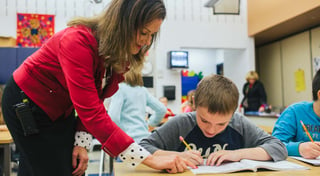 Having the best devices on hand, powering strong school WiFi and developing sophisticated school technology can make the difference in student performance and school security.
But how can you be sure that you're choosing the right products and systems? Here are some questions to ask when investing in technology in schools.
What Are Our Top Challenges That Technology Can Address?
If your school system has a long list of technology challenges, you're not alone. More than 150 education leaders and teachers took Education Dive's 2015 State of Education Technology survey. They described the eight greatest challenges of providing access to education technology in their district as follows, according to EdTech Magazine:
75.9% — Budget limits
53.9% — Inadequate professional training
41.4% — Teachers resistant to change
38.2% — Inadequate network infrastructure
30.9% — Unreliable device/software options
29.6% — No systems to use technology for curriculum
17.8% — Other
13.2% — District doesn't see immediate need for more technology
When investing in technology to meet your school or district's challenges, it's important to look for the investments that will have the most impact and address top priorities. In a nationwide survey conducted by Motorola Solutions, 99 percent of educators said that creating a safe, secure environment is their top priority. And nearly as many cited the need for "always available" communications.
Wireless communications technology such as two-way radios that provide instant connections won't single-handedly improve safety in schools. But they are a crucial component of a comprehensive safety plan. Communications solutions to consider include:
Switching from cellphones to radios

Upgrading existing analog radio systems to digital

Joining a

statewide radio for public safety

network if it's available
Is Our School WiFi Up to Speed?
Lightning-fast connectivity is key, particularly for modern classrooms. Investigating how fast your connections need to be to keep up – both now and into the future – is an important step to take in order to be prepared. If you're interested in testing your school's internet speed, there's an online tool for that, developed by the nonprofit Education Superhighway.
If the answer to the above question is no, keep in mind that a system upgrade rather than a full overhaul may be enough to get you back on the fast track.
Who Can Help Us Take Technology in Schools to the Next Level?
Technology in schools is a long-term investment, so who your campus or district works with matters.
Look for wireless communications providers who:
Offer service for what they sell

Have a track record of successful deployments in educational environments

Who can tailor a solution to meet your specific needs.
When Can You Start?
There's no time like the present!
To get a free estimate on the best communications solution for your school or school district, contact Chicago Communications.