Everything about your warehouse equipment and processes is becoming more innovative and advanced, so isn't it time for your security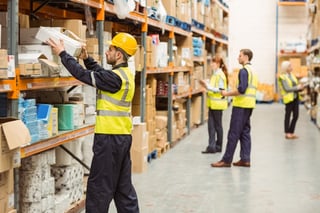 solution to keep up?
If you've currently got an analog video system, you're missing out on the opportunity for the added features and functionality that an IP solution could bring.
Advanced manufacturing technology needs an equally advanced system to secure it, so let's take a look at how to protect your warehouse equipment with IP video solutions.
IP vs. Analog
IP stands for Internet Protocol and in this context refers to a digital camera that sends and receives video footage as data via a computer network. With IP, the cameras don't need to send feeds to a digital video recorder (DVD) the way analog cameras do.
IP solutions such as the Axis network cameras beat analog across the board, particularly in terms of:
Picture quality

Ability to set alerts when someone enters a restricted area

Real-time access to images
Easy-to-install cameras strategically placed inside your warehouse and outside the perimeter can be networked to give security staff a holistic view of your operation, personnel and processes.
Why Features Matter
The features mentioned above – HDTV-quality images, alerts and instant access – all matter in terms protecting your warehouse equipment from theft as well as any malfunctions that may occur.
Being able to closely and remotely monitor high-risk areas where flammable or combustible materials are held can make all the difference when seconds count.
The Next Generation of Manufacturing
The switch to digital cameras represents a step toward the future of the industry as events such as manufacturing day bring more young manufacturing professionals into the fold.
A new generation of professionals pursuing manufacturing careers will have certain expectations of manufacturing engineering technology and everything related to it, and that includes the protection of your warehouse equipment.
If you're considering making a change in your video surveillance system but need more information to come up with the best solution, help is available — contact us for a free video surveillance consultation and estimate.