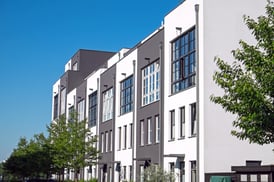 Do you own or manage a rental property? Whether it is residential and you offer some great apartments to your residents, or if it is commercial and you house retail shops, restaurants, or businesses, chances are you will encounter a construction project sometime soon.
As you find yourself taking on these new summer projects, like upgrading your building's exterior or even adding on a new unit or addition, you will be working with contractors. Just like with any project, communication is key, and you can count on time-sensitive issues popping up.
The best way to ensure you have reliable communication with your contractors is by using digital two-way radios. As a property manager, you may already have a fleet of two-way radios that you own and use throughout the year internally. While that is a great first step, you can improve your communication even further by renting radios to your contractors for the duration of the project.
Here are 3 reasons to rent two-way radios for your contractor.
There are many benefits of renting radios, but one of the best things about radio communication is the immediacy it provides. If something considered an emergency came up, such as severe weather that impacts the project or an on-the-job injury, you will be able to be notified immediately through the rented radios.
Most radios offer a push-to-talk option that allows the user to be instantly connected to their desired audience by the simple push of a button. They also leverage noise-canceling technology to ensure crystal clear call quality even in the presence of loud noises (wind, sirens, crowds, etc.).
When an emergency occurs, you want to be able to be easily reached by the contractor, and relying on your cell phone won't be good enough, so this alone is a great reason to use rental radios on your projects.
2) Radios are reliable (more so than your cell phone)
Cell phones rely on their carrier network for coverage and call reliability and are often subject to dead zones and dropped calls. So if your contractor needs to reach you about a time sensitive matter and calls your phone, a dropped or static-filled call will cause miscommunication or even set your project back on the timeline.
Not only is the coverage spotty, but cell phones aren't exactly known for their battery life. Think of all of the other things you do with your phone during the day, other than connecting with your contractor. You check email, use the GPS, send texts, take pictures, check the weather, search Google, and even play games. Your phone is a multi-use device and the battery is heavily impacted by the use, meaning you could be left in the dark if your phone dies when your contractor needs to reach you.
Digital two-way radios offer long-lasting battery life and great coverage to ensure a clear, reliable means of communicating.
Before you write off rental radios as just another expense, consider this: what would be your losses if there were miscommunications with your contractor? Renting radios allows you to stay connected at all times, therefore ensuring that the right materials are ordered and the best decisions are made, all at the right time.
Construction projects, especially when it comes to property management, need to be efficient and on schedule, and any delay can cost money. In short, you can rent radios to avoid these communication pitfalls to save money.

To learn more about renting radios, and how they help ensure safety and security, contact Chicago Communications today.