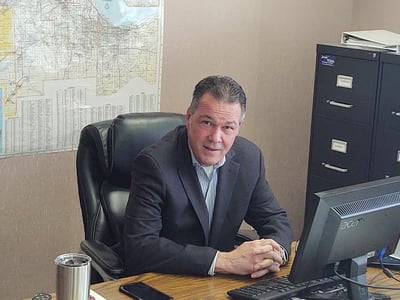 Kurt Hessler, a principal/owner at Chicago Communications welcomes everyone — customers, clients, and employees — into the Chicago Communications family. He has been a member of the Chicago Communications leadership team since 2004.
As the person responsible for sales and service, he makes sure that the company represents the right products from the right partners, and treats each customer as an individual. He takes pride in making sure that everyone gets their needs met and receives training for hassle‑free communications.
"It's all about relationships," says Kurt. "Treat each customer as if they're your only customer; like you would want to be treated."
That philosophy extends to Chicago Communications workers as well. "We have a family here," says Kurt. "I let people in the field make decisions. It's about believing in your staff to make the right decisions."
Chicago Communications Family
Chicago Communications was acquired in 2004 by Kurt and his sister, Cindy Glashagel. Kurt's father, Ken Hessler, is the company's business advisor and his son, Brad Hessler, is a sales rep on the Public Safety team. The leadership team is animated by the company's mission to provide sales, installation, and maintenance of communications equipment throughout the Chicagoland area. This family has more than 100 years of experience in the radio communication industry.
The long tenures of ChiComm workers demonstrate their shared commitment to the company's goals. Chicago Communications employs 17 union technicians and installers with an average tenure of 15 years. This team helps position the company to provide affordable solutions for companies, campuses, and public safety organizations to stay connected.
A Lifetime Commitment to Communications
After graduating from UW‑Whitewater, Kurt went to work for Motorola where he spent 20 years working in sales and management roles, holding positions in Commercial Accounts, National Key Accounts (Fortune 500), the Rental Department, and Public Safety. Cindy also spent two decades at Motorola, and their father built his career at the company.
After a successful career at Motorola, joining Chicago Communications was a natural fit for Kurt's career. He has been able to apply his knowledge and experience from two decades spent at Motorola. "I liked the corporate world, but this opportunity came up where the company went up for sale, and we thought this would be a natural extension from what we did at Motorola," says Kurt. "We could bring those experiences to a smaller company."
Kurt served on Motorola's Service Advisory Council for five years and sat on the board of the Great Lakes MSS Association, a regional association made up of wireless service providers, for four years.
Helping Things Run Smoothly
"I'm the one responsible for ensuring procurement procedures are followed, like overseeing contracts with customers," says Kurt. "I constantly tell people here we have to have everything organized on the front end to make sure everything runs smoothly on the back end."
Kurt will stick with customers to make sure they are satisfied, even if they encounter obstacles. He recalls an account early in ChiComm's history. "They were not satisfied with the coverage, but we continued to adjust the system until it met their expectations," says Kurt. "This customer has been with us ever since. You only survive if you have satisfied customers."
Pride in Building Relationships
The three things Kurt says he couldn't live without our family, friends, and work. "It's getting that balance correct," he says. "It's important and hard to do, and the demands of work can make that a challenge."
On the occasions when Kurt isn't working, you can find him on the golf course. "Being a business owner, you can't shut it off," says Kurt. "You're always involved, taking calls in the morning while on vacation, checking email daily."
Despite the long hours, Kurt wouldn't trade his position at ChiComm for anything. "My job is extremely hard, but it's extremely exciting," says Kurt. "Everyone around here is running at 110 mph, wearing multiple hats, but when you achieve the goals you've aimed to reach, that makes it all worth it."
For Kurt, it really comes down to ChiComm's customers. "When you have a satisfied customer and we get that feedback, it makes us feel good that we're doing the right things."