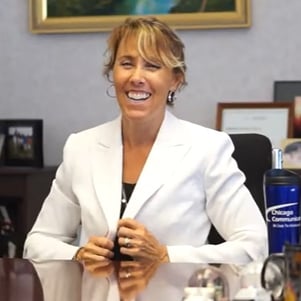 As a principal/owner of Chicago Communications, Cindy Glashagel believes ChiComm's job is to partner with every customer to fully understand their operations and provide communication solutions to maximize their efficiency and effectiveness.
"Our goal is to build long‑term relationships so we can continue to support customers as they grow and change, leveraging our broad knowledge of wireless communication systems and their applications to provide the best options," she says.
A broad knowledge of wireless communications is exactly what Cindy has. With a degree in math and computer science from Lake Forest College, an MBA from Northern Illinois University, and a Master's in international business from Roosevelt University, Cindy also builds on a 20‑plus‑year career with Motorola.
A robust background
Cindy began working for Motorola's automotive division in the Management Information System department as an intern while still in school. After graduation, she transitioned to the communications and electronics division and began working as a systems engineer writing software.
One of her roles at Motorola involved managing the 800‑number dispatch center for the radio side of the business in the U.S. This job introduced her to many company‑owned service centers, including Chicago Communications, and the service needs of their customers. She worked with Chicago Communications again when she became the operations manager of the system support center, which housed the 24/7 dispatch center, the board repair center and a remote diagnostic and technical support center. These positions gave her up‑close knowledge of communications companies and the important role technology can play.
From there, she says she was fortunate to be able to move into several other roles at the company, including quality assurance, operations management, and large customer account management. She then transitioned to the global HR department, which called for traveling the world and helping implement technical programs as well as the employee empowerment/communications program. Ultimately she moved to an organization development role when the opportunity at ChiComm presented itself.
Coming to ChiComm
Cindy explains that most of her family had also worked at Motorola for many years, helping sell, install, and service Motorola equipment. While Cindy had spent over 20 years on the service and HR side, her brother had spent 20‑plus years in the sales/rental side of the two way‑radio business. Her dad also built his career at Motorola and had known the owner of ChiComm and his son for many years.
When they learned the owner was looking to sell, Cindy's family knew it was a great opportunity to take all that they had learned at Motorola and venture out on their own. "At the same time," she says, "We could stay connected with the company that taught and provided all of us so much."
A continued commitment
As the new owners, Cindy's family continued the priorities they held at Motorola: providing optimal customer service and building strong relationships with customers.
"We try to communicate to our customers that they can trust we won't oversell them," she says. "We show them that we want to understand their business and help them find a system that will help it run it better, easier and maybe even more cost‑efficiently."
Cindy explains doing this calls for the skills and knowledge of the ChiComm team, which she describes as bright, committed, driven, giving, and supportive. "Our talented employees know how to implement and integrate products into systems to come up with the best solutions available," she says. "We are building a relationship with customers, and we want them to be customers for life. This means we pride ourselves on not walking away. We'll see things through to the end to make sure everything is running smoothly like it should."
A source of pride
Since taking over the reins of ChiComm in 2004, Cindy says she's had many proud moments. She says she is regularly amazed at the highly integrated and technical systems their teams design, sell, install, and service. "There is so much that goes into making communications systems work properly and connect to all the other pieces of a customer's operation," she says. "I truly have wow moments when I step back and look at what our teams have accomplished over the years."
She says these accomplishments, combined with expertise and years of experience, all contribute to the overall goal at ChiComm: Building those long‑term relationships so they can provide the best options and solutions for customers as their operations evolve and grow.
It is work Cindy loves, and it is fast‑paced and always evolving, much like her lifestyle. In her free time, she enjoys running, swimming, walking the dogs, yoga, cycling, skiing, riding snowmobiles or ATVs, or spending time with loved ones. And the three things she can't live without: Family, good health, and her first cup of coffee in the morning. "Oh, and one more thing," she jokes. "Pizza."