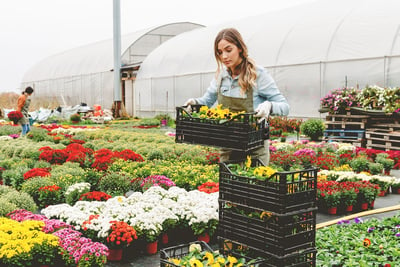 "Where can I find the ivory white begonias?"
"Can you help me find perennials that will grow in my shady yard?"
Imagine working in an enormous greenhouse in springtime, as everyone emerges from the Midwest winter hibernation and wants to buy plants and grow things.
How can employees of a large greenhouse and nursery improve outdoor communication and talk over acres and acres of retail space to provide prompt customer service?
I've got some ideas about optimizing outdoor communications after working with Woldhuis Farms Sunrise Greenhouse, Inc. to solve some interesting challenges.
A Sprawling Business with a Unique History
Woldhuis Farms was started in 1960 after Herman Woldhuis purchased a 160‑acre farm in Grant Park. Herman moved his family from Chicago Heights to the farm and began raising produce. The farm supplied onions, beets, and tomatoes for Campbell's Soup.
In the 1970s, the farm expanded to raise chickens and Herman's family delivered eggs to the southern suburbs of Chicago. When Herman's son bought the farm, they began to grow more vegetables and expanded into farmers' market produce. By 1990, the greenhouse part of the business was booming, and that became the focus as Dan, the third generation of Woldhuis farmers, joined the business.
Today, Woldhuis Farms is a destination for bedding plants, hanging baskets, perennials, vegetables, trees, shrubs, and any sort of flower or greenery you can imagine.
They grow everything from seed or propagation, and have a loyal customer base.
This third‑generation family business cares deeply about its customers and wants to do the best to serve their needs.
Challenge No. 1: Size
One of the biggest challenges for this business is the amount of space that they cover. Over the decades, Woldhuis Farms Greenhouse has expanded to include 8 acres of retail space. Things move around from season to season, and lots of people need help locating items they are excited about buying and planting.
They even have maps printed up for people to find what they're looking for.
This is a longtime business with a loyal customer base, competitive pricing, and a unique product. But they don't want customers getting discouraged because they can't find what they need.
In addition, the greenhouses are all constructed of corrugated plastic panels, which can be a challenge for radio signals.
When we started talking, the radio communication was quite lacking. They upgraded to a full‑power portable two‑way radio system. And when they still had issues, we added a radio repeater in the center of the facility to augment coverage.
That helped, but then we noticed a problem that I hadn't heard about before.
It had to do with employees' names.
Challenge No. 2: Timing and Names
There are a lot of folks working at the greenhouse who have an "e" sound at the end of their names: Danny, Heidi, Kathy, etc.
Like every business these days, they have a lot of employee turnover, too. Seasonal employees were pressing the button a little late.
What came out of the radio was that "e" sound.
They'd have to follow up with "Which 'e' are you looking for? Danny, Heidi, Kathy?" Not a very efficient system.
We solved that problem in two ways: by upgrading their old repeater and switching to digital radios.
Improved Clarity and Coverage
The digital radios were a dramatic improvement.
The new radios are Motorola radios called BPR 40d. They are lightweight and small, so they don't get in the way when people are working on the lines, or planting or propagating.
Like other similar products, they also have a great battery life. When April and May come around, these folks are working 14‑hour days. So a long battery life is important.
And the new radios also solved that "e" problem because they have a clear‑to‑talk tone delay on the push‑to‑talk button of the radio.
How that works with a digital radio is you press the push‑to‑talk (PTT) button on the side of the radio, and it creates a little chirping sound. The transmission does not actually begin until after that chirping sound.
Analog radios aren't capable of doing that, and it's a clear audio cue for people to wait to say that name until after they hear the chirping sound.
Now they know which employee is being requested.
Safety in the Fields
The employees working out in the fields have two‑way radios, too. They don't need them as much as the retail employees, but they have them in case someone is injured, or any other emergency.
In the later summer, when it's time to harvest sweet corn, a crew of 10 or 12 people are working around the picking machine. They'll have some radios with them, just in case.
Improved Service in the Greenhouse
The best thing about all of these improvements is that the employees of this company can now focus on helping people find and purchase what they need instead of dealing with annoying communications glitches.
They'll be able to help people find their shrubs, perennials, and annuals more easily — so they can get planting.