Our Customer Service Expert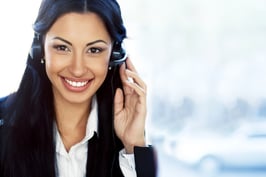 Linda has worked at ChiComm for over 25 years. Dave O'Brien hired her in 1986 when Jerry Bear owned the company. She started as a member of the reception and customer service personnel in the Elk Grove shop but as time passed she took on many other responsibilities and roles within the company including collections, billing & payroll in addition to many other miscellaneous tasks that a customer service position can bring. She wore multiple hats as one might say. She's stayed at Chicago Communications because of the flexibility she's given to do her job and the long lasting friendships she's made over the years with co-workers.
She showed me some of her specific duties like sorting & logging equipment, assigning service tickets to the designated technicians, contacting customers, etc. But when asked to describe what specifically she does, (beyond saying customer service) she says "It's so very involved. It's hard to put in words what you do when you do a million and one things." She's constantly keeping an eye on the details that others may overlook; making sure things aren't lost in the shuffle. Clearly it's the kind of job that Linda has gone above and beyond for. She also works at a local car dealership doing customer service related work.
What she remembers most about Chicomm in the 80's was that it was always busy. Over the years, many familiar faces of professional athletes, musicians, radio personalities, etc. came through ChiComm's doors. One of which was Chicago Bears star player, Walter Payton. He regularly brought in his car to have his mobile phone checked. Linda remembers one of these occasions when Walter had some fun with the group. "One time a customer came in the shop and mistakenly mixed up Walter Payton with a technician at the shop named Winston. The customer went up to Walter and said, 'Hey Winston, when are you going to take a look at my car?' And Walter played along with the customer and pretended to be Winston, following him over to his car, climbing in and asking questions about what was wrong with his mobile device."
We're very thankful to have Linda as a member of our team. She provides optimal customer service and is a valuable asset to Chicago Communications.
This article was written by Jill McNamara, Internet Marketing Coordinator at Chicago Communications. Jill has written all of the Meet Our Techs & Employee Spotlight articles for ChiComm's blog and continues to seek opportunities for new blog articles from current employees & customers. If you'd like to submit a suggestion for Jill, Contact Us!