The beginning of another year – and the midway point in most schools' academic year – is a great time to review your current school communications system and decide how to make it even better.
Too often, school districts and campuses wait for an emergency or disaster to strike either elsewhere or close to home before making communications system improvements. As 2017 begins, now is your chance to get better prepared in case of an emergency and improve the efficiency of your day-to-day operations.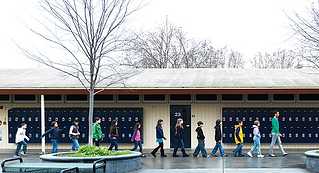 Here are 5 new year's resolutions for a better school communications system:
1. Switch from Cell Phones to Two-Way Radios
School districts across the country have already made the savvy switch from cell phones to two-way radios, and here are the most common benefits they report:
Push-to-talk (PTT) functionality: Radios allow users to connect with literally the touch of a button.
Better reliability: Radios deliver during emergencies when cell phone lines may become overloaded, improving school bus safety.
Group talk: Radio users can instantly contact multiple users at once with the touch of a button.
Interoperability: Applications such as Motorola's WAVE give radios the ability to connect to smartphones, computers and landlines.
Lower total cost of ownership: With radios, there are no recurring monthly fees, unlike cell phones.
2. Upgrade Your Existing Two-way Radios from Analog to Digital
Digital two-way radios will drastically expand your radios' reach and reliability, giving you the ability to connect staff across buildings, and with the right accessories, even across your campus or district.
And you don't have to switch every radio all at once. Digital radios that also have analog capabilities will give you the flexibility to gradually migrate staff over time and ensure that they can keep in touch in the meantime.
3. Get SchoolSAFE
SchoolSAFE is a two-way radio based product that seamlessly connects school radio systems and public safety radio systems. SchoolSAFE provides "digital signaling," a method of bridging the radios together to allow school personnel carrying radios to communicate directly with first responders via talk or text.
4. Give Your Radios a Work Management Solution Boost
DispatchPlus, our wide area network application for MotoTrbo radios, is a cloud-based work management solution being used successfully by clients across industries and use cases. For school bus drivers and other transportation staff, DispatchPlus can provide real-time information on drivers' current location, route and communications.
The application also offers integration between radios, smartphones and tablets, meaning that multiple groups of users can connect through DispatchPlus from phones to radios and even from phones to phones. Setup is immediate, and there are no installation costs.
5. Go Beyond Basic Black for Your Radios
In 2016, Vertex Standard introduced the EVX-S24, the company's smallest EVX series radio intended for the retail, education and hospitality markets. In addition to its slim profile, the EVX-S24 is available in both basic black and bright yellow, with the latter option offered for settings – such as a school – in which an obvious radio can act as a deterrent to bad behavior.
Here's to a safe and happy 2017 and beyond! Improving your school communication system is a great first step to starting the year off right.
To get a free estimate on the best communications solution for your school or school district, contact Chicago Communications.