Digital two-way radios are, in and of themselves, powerful communications tools, and the right set of applications tailored to meet your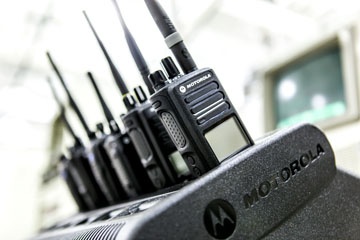 specific needs can make them even more indispensable.
As the number of developers continues to grow, the options for applications are seemingly endless and provide everything from alarm management to dispatching to text messaging.
With the diversity of options in mind, here is an overview of must-have applications for digital two-way radios.
Motorola's WAVE Work Group Communications
Applications under Motorola's WAVE Work Group Communications umbrella bridge the gap between radios and different platforms and devices, including smartphones, radios, computers or even landlines.
Applications include:
WAVE Mobile Communicator: Turns any Android or iOS smart device into a push to talk (PTT) handset capable of connecting with two-way radios, computers or other smart devices.
WAVE Desktop Communicator: Allows office or mobile workers to use desktop computers or laptops to monitor, transmit and receive audio from radios and telephones.
WAVE Web Communicator: Provides secure PTT from a web browser as well as text messaging, Google Maps integration and group calls.
Teldio's Email Gateway
Teldio's Email Gateway allows users on any MOTOTRBO handheld two-way radio to send and receive messages directly from the device. The app also integrates with work management systems and will send work orders directly to radios to streamline communications.
DispatchPlus by pdvWireless
DispatchPlus, our wide area network application for MOTOTRBO Motorola two-way radios, gives dispatchers real-time information on drivers' current location, route and communications.
Key features and benefits of DispatchPlus include:
Private and group calls
Text messaging capabilities
It's legal to use while driving
Lower cost than cellular
Lone Worker and Man Down
As two-way radio communication has evolved over time, some of the most impressive advancements have come in the area of worker safety, particularly for users who are on duty alone or who work in isolated areas.
Many apps have Lone Worker or Man Down functionality – but not both – so if one sounds like a better fit for your situation, be sure to choose your app accordingly.
Lone Worker applications generally track user activity, and if a user doesn't interact with the radio or check in within a predetermined amount of time, an emergency alert is sent to other users.
With the Man Down application, Motorola and Vertex Standard digital two-way radios can be programmed to sound an alert in several situations: if no movement is detected by the user for a period of time or if the device becomes tilted at a precarious angle, suggesting that the wearer has fallen. If the worker isn't hurt, they can reposition the radio or disable the alert. If the alert isn't disabled, the signal sends a call for help.
RTLS Indoor and Outdoor Positioning
The Real-Time Location System (RTLS) Indoor & Outdoor Positioning System from Teldio combines Bluetooth and GPS to give up-to-the-minute information on workers' locations via a web browser that can be accessed on a computer or mobile phone.
For indoor coverage, RTLS can be installed to track workers' movements around a facility as their synced Bluetooth device pairs and unpairs at known locations and transmits their last location.
The outdoor GPS component tracks personnel in a pre-defined, geo-fenced area. To avoid gaps in coverage, the MOTOTRBO two-way radio automatically switches back and forth from Bluetooth pairing to GPS monitoring.
SeQent's FirstPAGE Alarm Manager Family
The Wireless Alarm and Event Notification products send real-time text messages to MOTOTRBO radios, smartphones and email to bridge emergencies that happen in automation equipment and industrial applications.
Start Installing Today
No matter what industry you're in or communications challenges you face, chances are there's a digital two-way radio application available to meet your needs.
To learn more about creating and maintaining a successful two way radios system, contact Chicago Communications to set up a free consultation.