Whether you are renting radios for your next summer event or you are a long-time owner of some Motorola digital two-way radios, you should know that the radio is actually just the first piece of the communications puzzle. What does that mean? Accessories.
Radio accessories are important to the experience you have with your radios, because they help enhance and customize your communications to your exact need. For example, those renting radios for a festival will be using their radios differently than workers in a manufacturing plant, and accessories help tailor that experience. While some users' top priority is a hands-free experience (that's where earpieces/headsets come in) others may place an emphasis on battery life.
Regardless of the scenario you are communicating in, here are the must-have accessories for your digital two-way radios.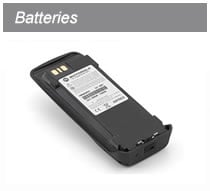 Don't worry, your radio comes with a battery. In this case, these are additional batteries that you can obtain as an add-on item. These Batteries will operate just like the factory model, but come with a higher capacity for charge and can last much longer.
Extended battery life is important in nearly every industry and use-case. For example, plant workers on the factory floor may be working long shifts which require them to be in contact for blocks of hours at a time. Another example would be event staff or security. Some events run from morning to late at night and losing the ability to communicate to a dead battery can cause major issues.
Even if you only plan on using your radio for a few hours at a time, it is always a good idea to have a few extras readily available, as most batteries take a few hours to recharge. Also, each radio requires a specific battery, so you will need to connect with your communications provider to determine which battery is right for your radio and your unique situation.
Chargers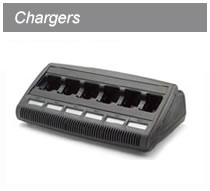 Have you ever been in a situation where multiple people needed to charge their smartphones at the same time, and only a single outlet is available? That can be the case when it comes to charging stations for your radios.
Just like with batteries, your radios come with chargers (whether you rent or purchase them). The difference here is that the basic charger that you receive is meant for a single radio, while multi-unit chargers have the ability to charge multiple batteries at the same time (even if they use different battery types).
If you own or rent a large quantity of radios, these chargers are a must. They help keep all of the radios together in the same dock, as well as ensure every user receives a fully-charged radio.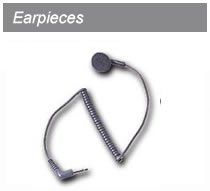 While one of the great features of digital two-way radios is how comfortable they are to hold, many users require the ability to go hands-free. Whether due to needing both hands on a piece of equipment, or just pointing event goers in the right direction, being hands-free is an important benefit to have.
This is where headsets and earpieces come in. When you purchase or rent your radios, be sure to ask about the options available for hands-free communication. Since every user is going to have different needs and preferences, there are plenty of options out there designed to suit each individual and unique need.
For example, some headsets offer a noise-canceling microphone to ensure clarity in your communications. This is especially useful at events or jobs that have a noisy environment.
Whatever your specific communications needs are, there are two-way radios and unique accessories designed specifically for you. To lean more, contact Chicago Communications today!