Does Your School Have a Secure Emergency Preparedness Plan in Place?
In the aftermath of 2012, educational institutions everywhere re-evaluated and re-examined their security and emergency-preparedness plans. Administrators went into crisis mode to comfort students and parents while ensuring all that plans and procedures were in place to keep their schools safe and secure. A critical piece of the plan is communicating across school grounds, and two-way radios are an instrumental part of that plan.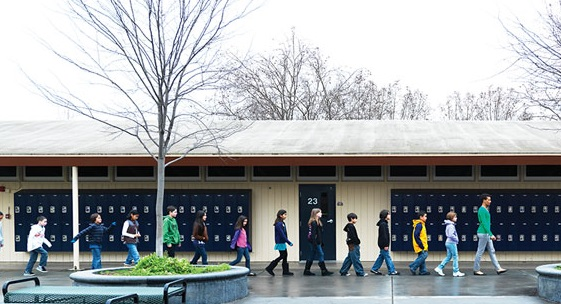 Chicago Communications recently completed a project that helped a suburban school district solve disparate communications and improve emergency notification. There were seven schools associated with this district. The goal: review their current communications system and provide a unified radio system, which allowed communications not only locally at each school but area wide for mass notification. In a review of each school we noticed that some schools had four radio channels, some had one radio channel, some had new equipment, and some had thirty year old equipment and multiple licenses with different license holders. In short, nothing was the same and nothing talked together.
After reviewing the schools and their requirements, the school district needed four local channels at each school, specifically; Administration, Athletics, IT and Maintenance. In addition to the four local channels at each school they required two wide area channels that would allow for Central Maintenance to roam between schools and a District Wide emergency channel that could mass notify all the schools and all the users of a pending emergency.
The solution we recommended here: Motorola MOTOTRBO Digital Radio Systems. The MOTOTRBO solution fit exactly what the District was trying to accomplish while providing cost savings in infrastructure replacement, and also allowing for future growth. MOTOTRBO uses TDMA (Time Division Multiple Access) to leverage two digital talk paths for one frequency. Thus, instead of buying six repeaters for each school, the digital TDMA technology allowed them to purchase three Motorola repeaters for each school, each having two talk paths, yielding six total voice paths per school.
One of the three repeaters was used in a wide area 'IP Site Connect'. The 'IP Site Connect' leveraged the schools existing data network between locations. By interfacing the seven wide area repeaters to the District WAN, a communications path will let a user roam on the channel between locations.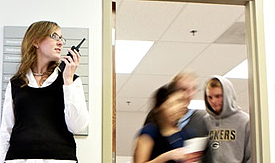 We also recommended IP Site Connect because it permits a user to leave one School zone and travel to the second, by handing off the call to the next available repeater. In addition this allowed for a wide area "Emergency Alert" to be used to notify all schools of an impending emergency. Whether on a local channel or one of the wide area channels, if the District Superintendent activated the "Emergency ALL CALL", all radios were set to change channel to the emergency channel and listen for the following message.
When challenged with roaming and emergency alert, an approved third party Motorola Software Vendor was used to allow any user roaming between sites to receive the same emergency. Thus all 700 radios from all 7 schools have the capability to listen to one broadcasted message over the emergency channel.
The system, although simplistic in radio design, has the ability to grow with the district. The system currently operates in digital repeater mode, but capacity can be increased by changing over to "MOTOTRBO Connect Plus," which is a multi-site trunking protocol. Trunking allows additional user capacity with the same infrastructure by adding a central controller to each location. In addition, by purchasing the MOTOTRBO system, the District has the ability to enhance the systems with GPS, Man Down, Telephone Interconnect, Text Messaging and additional applications that the MOTOTRBO digital platform lends itself to.
Instead of waiting until after an incident occurs that quickly becomes another example of tragic school violence, schools must consider their safety and security measures right now and more often thereafter. Are your emergency plans up to date and effective? Do you have the proper tools in place to carry out these plans should they be put to the test?
This article was written by Tom Treichler (Director of Sales & Service) and edited by Jill McNamara, Internet Marketing Coordinator at Chicago Communications. Jill has written all of the Meet Our Techs & Employee Spotlight articles for ChiComm's blog and continues to seek opportunities for articles relating to the wireless communications industry. If you'd like to submit a suggestion for Jill, Contact Us!