Josh Lary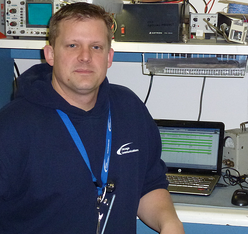 Our management team often receives letters from customers with feedback about their experiences with ChiComm's staff. Recently one was received regarding an experience with one of our technicians, Josh Lary:
"He really was thorough and honestly my impression was that this guy really cared. He was persistent and didn't stop until he had exhausted all possible contributing aspects of our coverage issues over there. You and I have been dealing with people and different personalities for many years, but Josh really gave me the impression that he and I had a partnership with this radio problem (might sound a little strange, but I'm sure you've occasionally come across an individual who seems to "get it") and at the end of the day when he left…the radio signal had been improved greatly."
Josh is a dedicated field service technician who has been with Chicago Communications for over 2 1/2 years. He works primarily in the field installing and repairing base stations, repeaters and dispatch centers. Josh attended McHenry Community College studying computers and started working for a cable company (TCI of Illinois) while going to school. Working this job opened his eyes to the camaraderie of being out in the field working with technology, doing install and repair work. After TCI, Josh started working for wireless communications company in cell phone sales and at their help desk. After a few years there he acquired enough knowledge to take on more responsibility. He ventured into phone system and cabling projects along with installation of two way radios and cell phones in vehicles and on-site. All his experience allowed him to take on a lead installer role and also perform project management duties implementing technical projects. Following the 9/11 attacks Josh joined in the National Guard for a year and also began coaching a youth wrestling club program in Lake Geneva, WI called Badger Youth, that he now helps manage.
After getting 8 years of experience, Josh left to work at a phone service provider called TDS. He was doing similar install and repair work to other jobs, but on telephones and telephone lines. Josh had big hopes and dreams for himself but when he realized growth within TDS was limited, he left to work for CC&N (Cabling Communications & Networking) doing technical work again.
Unfortunately CC&N suffered when the economy hit the recession and when the company made layoffs in 2009, Josh lost his job. Josh recalls this as the hardest time in his whole life. Luckily it wasn't too long before an opportunity at Chicomm came along. Being offered a job at ChiComm came at the right time; it allowed him to get back into what he knew he could do, not to mention it put him and his family back on their feet. And because of the opportunity, "Life is good," Josh says. "This job is the best job I've had. Everyone here is great to work with and the owners treat their employees more than fair."
When asked what he loves about his job, Josh says he loves being in the field the most. "My truck is my office. I also enjoy the challenge of getting back into the two-way & RF (radio frequency) side of the work, which was new to me because back with his previous communications company, as an installer, I only touched on it. Plus the knowledge and training we get here is bar none. IT networking guys may be a dime a dozen but not everybody can do what we do. We're an elite group of guys. There is no trade school or college for learning this stuff; nothing prepares you for the given knowledge of what you'll learn hands-on, out in the field."
I asked Josh if there is anything in particular that sticks out to him when he looks back over his time here. He said he remembers after his first full week on the job, driving home on that Friday and just being extremely thankful. Thankful to be working for Chicago Comm and really enjoying the work he's doing.
To learn more about ChiComm products, tips, & relative industry information, visit our website or Facebook page!
This article was written by Jill McNamara, Internet Marketing Coordinator at Chicago Communications.