Jerry Beres
Jerry is going on 28 years as a Chicago Communications technician. "Not many people can say they've worked for the same company 28 years, it just doesn't happen very often anymore," he says. "I'm a loyal person and if you take care of me, I'll take care of you." According to Jerry, there have been enough challenges, variety and growth to keep things interesting and enjoyable all these years. Let's take a closer look into those years to see if he's right.
Jerry grew up in Illinois and once out of high school he started working for Motorola as an installer for two-way radio equipment. He started attending McHenry Community College, taking electronic courses, but after only a year he was offered the opportunity to go work for the install department at Motorola in Denver, Colorado. At that time, Motorola had their own two-way shops (like what ChiComm is today) that provided a majority of services themselves. When a new opportunity came to go work for Jefferson County Sheriff Dept., Jerry accepted. Jefferson County was a self-maintained department. Their radio system was relatively large and required a five person team to maintain five different sites throughout the mountains. Jerry and his fellow team members did everything from equipment installs to radio repair to keep the system running 24/7/365. Up to this point Jerry had mostly just been installing mobile systems and base stations, but here he was put on the bench to start technician training so he could work on pagers, portables and mobiles as well. By then every piece beyond installing the consoles, from the dispatcher pushing the button to the message reaching in squad cars, became Jerry's responsibility.
One year when Jerry was home for Christmas, his Dad (who worked for Motorola in sales for 35 years) told him about an opening he had heard about at ChiComm. Fun fact: Jerry's father worked with Ken Hessler at Motorola for many years, so Jerry and current co-Principal of ChiComm, Kurt Hessler used to attend Motorola picnics together. The opening provided Jerry the opportunity to move back to Illinois, and he took it.
There was quite a lot of bouncing around after that. Jerry started at the in Chicago working as a portable technician for a brief time, and then moved on to the Libertyville area for a dispatch project shortly before moving to the Crystal Lake shop. Jerry was always willing to move to shops further north since he lived up that way. He remained in Crystal Lake as a bench tech for a couple years until a shop was opened in Mundelein, but then moved again to Wauconda when a shop opened there. This brings us to about the time he joined the base crew, which is an elite group that maintains everything other than mobiles and portables, (consoles, infrastructure, etc.)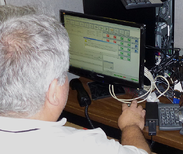 And most recently, Jerry started training to begin engineering and designing the systems themselves, building on the expertise he has from working with this equipment his whole career. Looking back, I think Jerry was right, that's surely enough change of pace to keep him on his toes! Especially being on the base crew, where he has been on-call for some of the worst storms in the history of the company. "When you're on the base crew a mobile can go down, a portable can go down, sure, but when you're dealing with a base station that's tied to an entire police station or fire department, it doesn't matter if it's raining, sleeting or snowing—if they need support, you have to get there."
Another fun fact: Jerry began helping at the McHenry Fire Department almost 20 years ago. He started as a volunteer, then worked 10 years as a part-time firefighter and is now retired to working as an associate member. Sounds like not only does Jerry have a lot to be proud of, but also ChiComm is lucky to have yet another dedicated person on board.
Have you worked with Jerry before? Leave a comment below!
To learn more about ChiComm: product, service & relative industry information, visit our Twitter or Facebook page!
This article was written by Jill McNamara, Internet Marketing Coordinator at Chicago Communications. Jill has written all of the Meet Our Techs & Employee Spotlight articles for ChiComm's blog and continues to seek opportunities for similar or new articles from current employees & customers. If you'd like to submit a suggestion for Jill, Contact Us!