Meet Our Techs: The Experience Behind ChiComm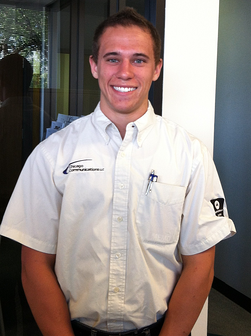 John Syron started working at Chicago Comm in March of 2011, so he may be considered a rookie around here. But he could certainly fool you into thinking he's been doing tech work for much longer. If the Chicago Comm technician's were a baseball team, he'd probably get rookie of the year with his track record so far.
John graduated high school in 2008, and immediately enrolled in DeVry's networking and communication management program (going on to earn his bachelor's in just 2 ½ years). His ambition and eagerness to get started in the industry led him to a career fair before concluding his time there. Ever heard the saying: Luck is when preparation meets opportunity? John's luck must have paid off at the fair because he received 4 job offers! Ultimately though, John chose Chicago Communications and the company was thrilled to bring him on board.
When he started here John spent 3 months training in the tech room programming radios in addition to completing Gold Elite and Connect Plus extensive training through Motorola. The next few months were spent completing on the job training, observing several experienced tech members such as Jerry Beres and Josh Lary. In the field he gained experience in infrastructure preventative maintenance, programming for 9-1-1 centers and digital radio systems, among other things. It wasn't long before John began implementing the training, using his own knowledge and their teaching, to complete tasks himself. He's currently a field technician that is working on one of the company's larger projects.
The first project John had a significant role in was launching an entire MOTOTRBO digital radio system for a customer. As part of the project he was responsible for being the face between ChiComm and the customer. This generally means once a product has been acquired, he works with the customer on how they'd like it set up, programming it to their needs in addition to testing it out. Working with MOTOTRBO digital radio systems has become the favorite part of his job; specifically launching a system, after seeing it come full circle from start to finish, is what he finds most rewarding. So my assumption that he's a supporter of the digital world whole heartedly was correct. John estimates about 75% of his job is completed via computers. "Hopefully everything goes digital eventually. It helps everything move more efficiently, leading to a wider range of communications," John adds.
So John must be happy with his decision to work for ChiComm, right? Well he enjoys being able to do something new and different every day. Whether it's a new job, a new location or new people, the nature of the work is the biggest reason he's continued to stay. He also feels ChiComm's has a great advantage by having such a wide range of knowledge amongst the technician staff. He feels confident knowing that any question a customer has can be answered by himself or someone on his team, which also means there's a vast amount of knowledge for him to gain from colleagues.
Though it may seem like John's a workaholic, his life isn't completely full of computers and digital radios. In his free time John rides and races BMX bikes, and he's been doing it for 17 years already--certainly no rookie there. We'll have to check back in 17 years and see if he's still enoying life as a potentially long-time technician. Until then...keep up the good work!
To learn more about ChiComm: product, service & relative industry information, visit our Twitter or Facebook page!
This article was written by Jill McNamara, Internet Marketing Coordinator at Chicago Communications. Jill has written all of the Meet Our Techs & Employee Spotlight articles for ChiComm's blog and continues to seek opportunities for similar blog articles from current employees & customers. If you'd like to submit a suggestion for the blog, Contact Us!