Meet Our Techs: The Experience Behind ChiComm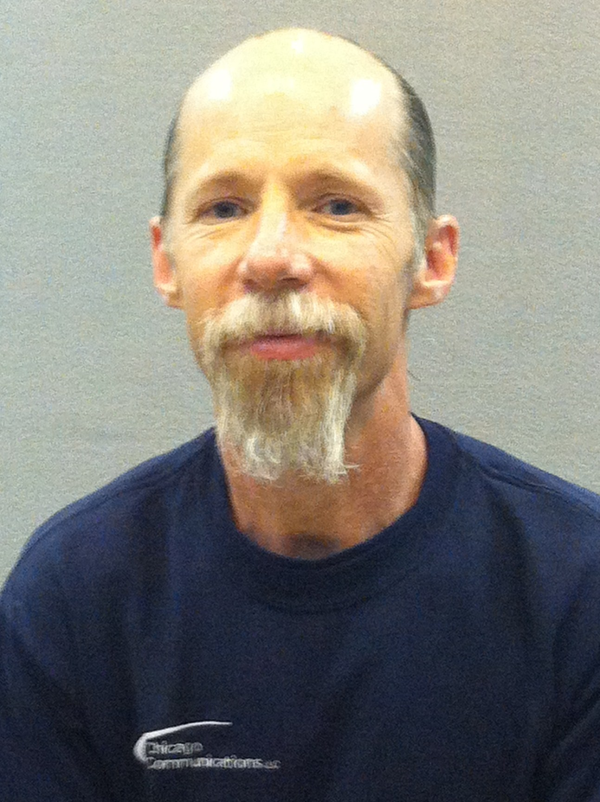 Curt graduated high school in 1978, back when gas was $0.63 a gallon and "Grease" & "Saturday Night Fever" were most popular on the big screen. That same year, Illinois Bell Company introduced the first ever Cellular Mobile Phone System; something that Curt probably didn't realize he'd be tied to in the future. So at this time, he stuck to his trade as a mechanic. Curt had been a mechanic since age 13 because his dad owned 5 gas stations and he was always exposed to the automotive field.
Curt was a real enthusiast about this field, so after doing mechanics for a few years he went to work at a body shop to learn the whole spectrum of automotive. After a few months at this new shop his body tools were stolen, and rather than replacing them he went back to mechanics as a transmission mechanic. But Curt was always curious about trying something completely different. He then made a leap from the nitty gritty work of a mechanic to training to become a baker. He pursued work as a baker for a year and a half and even ventured into cake decorating, which he holds a certificate in. Definitely what I'd call a change of pace!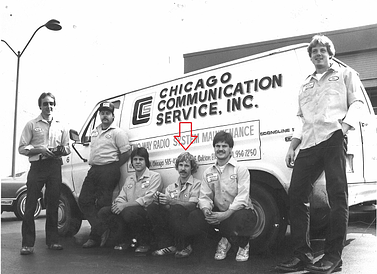 Anyway, working in the baking field didn't turn out to be quite as wholesome and pleasant as Curt expected. And so he went back into the mechanics trade until 1983, when a friend told him about a job offer at Chicago Comm. Luckily, he landed the job and was hired primarily for cellular installations at the Elk Grove shop(pictured right, in 1983). Although it had been introduced earlier, cellular had just been released commercially, and it was starting to boom for the elite class. He says, "Back then it cost $10 the first minute to use the phone, and a dollar per minute afterwards. I remember one customer in particular mentioning him having $3,500 monthly cellular bills, (about a $7,000 phone bill now), and it was like nothing to him."
Once cellular died down, ChiComm's focus adapted to the changes of the industry and went back to two way radio. Similarly, Curt's career went from being heavily in cellular, to diversifying into other areas including two way radio, dispatch centers and building squad cars. Curt refers to himself as a "Nuts and bolts kinda guy. I'm much more mechanical then electrical." He can install everything ChiComm sells/services (base stations, mobile radios,etc.) but he specializes in building squad cars from start to finish. These kinds of jobs are his favorite, too. "My favorite job I ever had here was a long term project at Machesney Park in Winnebago County for the Sheriff Department. I worked on about 50 squad cars over a year and two months. The best part was I built a lot of rapport with the community; I saw the mayor almost every day and kids were always coming by and asking to see what I was working on."
Today Curt is most thankful for the new ownership at ChiComm and the loyalty they demonstrate to employees. Outside of work he's a recent grandfather, who still enjoys cooking and helping others. If he ever leaves ChiComm, you might find him as a relationship counselor, where he believes he could best help others. This would be quite a different level of helping others than building squad cars or servicing their radios!
This article was written by Jill McNamara, Internet Marketing Coordinator at Chicago Communications. Jill has written all of the Meet Our Techs & Employee Spotlight articles for ChiComm's blog and continues to seek opportunities for similar blog articles from current employees & customers. If you'd like to submit a suggestion for Jill, Contact Us!