Lean manufacturing and its focus on creating customer value, eliminating waste and increasing efficiency has proven so powerful over time that it's been applied across everything from education to healthcare to software development. Lean manufacturing has important applications in choosing and maintaining communications equipment and solutions.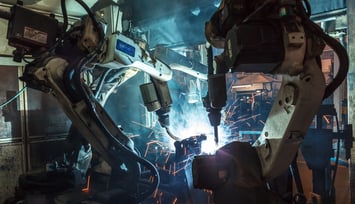 Lean Manufacturing is Derived from the Toyota Production System (TPS)
To understand lean manufacturing, what it means for communications and how communications can help drive efficiency, let's start by taking a quick trip back in time to the turn of the 20th century at Toyota headquarters in Japan, where many of the principles of lean manufacturing were born. Toyota is known for using the method and philosophies of lean manufacturing to transform itself from a small loom-making company to the world's largest automaker.
In the 1920s, Toyota was a manufacturer of automatic looms, including a novel weaving machine that automatically stopped production when it encountered a problem. That focus on not wasting time and material is the seed of what became the Toyota Production System (TPS), which is what lean manufacturing is derived from.
Reducing Waste is at the Heart of Lean Manufacturing
Today, there are 7-8 main categories of so-called "wastes" that lean manufacturing practitioners say need to be addressed and reduced to maximize customer value and increase efficiency. It just so happens that the 8 wastes spell out T-i-m W-o-o-d-s.
As you become acquainted with Mr. Woods, keep in mind how these wastes apply to your business, operations and communications and how having the right communications solution and approach will help you become more efficient.

The 8 lean manufacturing "wastes" are:
Transport (moving products you don't need for production)
Inventory (components, in-progress materials and finished products that aren't being used for production)
Motion (moving people or equipment more than necessary for production)
Waiting (idle time between production steps or interruptions that occur during shift changes)
Overproduction (production conducted ahead of proven demand)
Over Processing (the result of bad tool or product design)
Defects (the effort it takes to inspect for and fix defects)
Skills (Under-utilizing capabilities or delegating tasks to staff with inadequate training)
Lean Manufacturing and Communications Solutions
Communicating in a manufacturing environment where lean manufacturing is being implemented requires applying the lean manufacturing principles to all communications decisions and procedures, including:
Choosing radios, wireless solutions, and other equipment that provide real-time, crystal-clear communications every time, making full use of evolving manufacturing technology in communications. This ensures that staff are able to be in constant, real-time communication about what is needed, where, and when.
Performing preventative maintenance on all communications equipment to maximize its lifespan and minimize downtime.
Making sure all staff members who come in contact with the company's communications system are trained on how to use it properly and, as appropriate, perform maintenance to keep it performing perfectly.
To plan and execute the most efficient communications system for your business, contact Chicago Communications today!