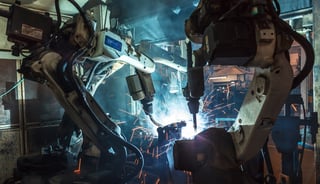 Anyone who is familiar with the Kanban system and its application in manufacturing knows that communication is the key to the method's effectiveness. Teams need to collaborate and communicate during planning, in real time during operations and after incidents to make sure processes are running smoothly and continuously improving.
With their flexibility, scalability and reliability, digital two-way radios are the best communications tools to achieve the just-in-time solutions that Kanban systems require. Two-way radios outperform analog communications and cell phones in a number of categories that matter most, including sound quality, battery life and in positioning businesses to be ready for the future.
The History of Kanban System Manufacturing
Kanban traces its roots to the 1940s in Japan, where engineers with Toyota developed it as a method to better match their inventory with customer demand rather than their vendors' supply. Their inspiration for the system came from an unlikely place – supermarkets – where engineers noted that shelves were stocked according to how quickly they were cleared by customers rather than a preset schedule.
Today, the kanban system has been applied to optimize supply chain management in all kinds of manufacturing, and software developers continue to adapt it for the tech industry. As Kanban manufacturing continues to evolve, digital two-way radios, paired with the advanced array of applications available, are an important element in the future of ever more connected manufacturing and evolving manufacturing technology for communications.
Let's take a look at some of the capabilities that are enabling digital two-way radios, as well as applications, to help communications in kanban manufacturing.
Streamlined Communications
Digital two-way radios are built with businesses and public safety in mind, and they can be tailored to power through nearly every condition thrown their way, including noisy warehouse floors, hazardous worksites and far-flung workers.
Rather than having to cobble together a communications solution that works for all of their variables, companies that deploy two-way radios and applications find that they can streamline and get rid of their pagers and cell phones for good. And applications are helping bridge two-way radios and a host of enterprise-wide software solutions.
Working with a qualified dealer can help you find, install and maintain the digital two-way radio solution that's right for your situation or to trade in and upgrade your current fleet.
Alarm Management
In manufacturing, particularly in Kanban manufacturing, seconds matter. Catching a manufacturing or equipment problem quickly or even before it starts requires instant notification and dispatch of the right personnel or remedy.
Alarm management applications can alert just the relevant staff or even the entire plant about an issue or emergency via methods including two-way radios, tablets and LED/LCD displays.
Enhanced Data Delivery
Manufacturers have more access to data – big and small – than ever before, and the key issue now isn't data collection, it's data distribution and analysis, making sure the right people have access to the right information at the right time.
Applications available today can deliver all kinds of data directly to the warehouse floor via two-way radios and other platforms, allowing for the kind of instant decision-making and efficiency that are at the heart of Kanban system manufacturing.
To get the technology your staff need for critical communications, contact Chicago Communications today!