As campus security concerns have changed over time across the country, so, too, has the response from education safety officials, including an increased reliance on school resource officers and police. As the number of officers in schools continues to rise, experts on both sides of the issue are still debating whether the increased police presence is improving campus security.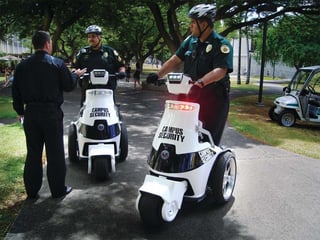 For now, there's a lack of strong data one way or the other, and most people in the education safety industry will admit that they just don't know for sure. What they do know is that the number of officers is up: According to the National Center for Education Statistics, the share of schools with a school resource officer increased from 1 percent in 1975 to 40 percent in 2007. As of 2014, there were 31,000 school resource officers employed in public schools nationwide.
More research is under way about the effectiveness of having resource officers and police on campuses. Proponents say the officers protect students, act as mentors, parental figures and psychologists, and improve community relations with police.
Opponents point to a number of recent incidents across the country in which school resource officers are accused of escalating violent situations with students rather than defusing them and for making students on some campuses feel like prisoners in their own schools.
Communications is Key for Campus Security
As the debate goes on, one thing we know for sure is that when it comes to campus security, communications among administrators and law enforcement – whether they're stationed at the school or not – is key. A 2015 Motorola study asked more than 900 K-12 educators "why does your district need to improve communications?" and nearly 60 percent responded so that they could be better equipped to handle an emergency.
According to the study, 93 percent of respondents want to be able to communicate directly with law enforcement, fire services and EMS, and 85 percent want to communicate with personnel no matter where they are or what device they're using.
Based on insights like these from educators over the years, Motorola has developed a suite of solutions related to intelligent radios for safer schools. New Motorola MotoTrbo radio technologies offer a number of options for giving schools immediate, one-button access to law enforcement during emergencies, as well as the ability for personnel to collaborate across devices.
Already, many principals (75 percent), office staff (71 percent), transportation (32 percent) and security (29 percent) staff reported primarily using two-way radios to keep in touch. And all educators cited the dangers posed by power outages, severe weather or network failures when using cell phones or landlines.
Safety Grants Can Help Cover Communications Costs
As the study shows, educators are well aware of what they need, but 47 percent of respondents said they believe funding is a barrier for their needed communication improvements.
The good news is that school safety grants are available to help schools or school districts offset or even cover the cost of emergency communications equipment. And for school officials specifically interested in Motorola radio products, there's help for how to develop a successful grant application.
To get a free estimate on the best communications solution for your campus, contact Chicago Communications.