Communication interoperability is a well-recognized imperative for public safety, homeland security, law enforcement, or any other organization that has a need to share intelligence, coordinate plans, and mount successful joint operations with others operating on disparate systems. Nationally, emergency equipment operability is becoming a priority.
So wouldn't it be great if you could access your radio system from a Smartphone? Or what if you were able to remotely create interoperable radio communications, enable basic dispatch functionality in remote locations, remotely control radios, or connect your phone into your radio system? Federal, state and local agencies with incompatible voice systems can communicate with a MOTOBRIDGE radio over IP interoperability solution.
The MOTOBRIDGE solution, by Motorola Solutions, enables you to add these capabilities and more to your existing analog, digital, conventional or trunked radio system.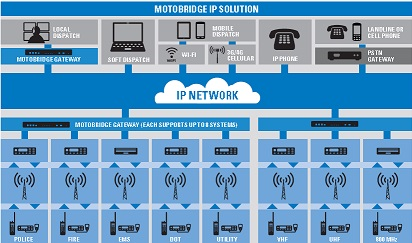 MOTOBRIDGE consists of radio gateway appliances that connect into the radio system and software client applications that can run on a variety of devices such as PC's, tablets, or Smartphone's. The MOTOBRIDGE solution and client applications can run over a variety of wired and wireless networks.
The features of this technology will:
Enable remote PTT, talk, listen, and basic control functionality on an Android Smartphone or tablet.
Enable patching/interconnecting of disparate radio systems over IP networks.
MOTOBRIDGE is an IP-based solution that connects into your existing radio system and enables all these functions using the power of IP networking.
Other features include:
Software only basic dispatch client applications with a state of the art graphical user interface
Full remote access to all radio functions (all modes, features) for select Motorola radios via a graphical virtual control head
MOTOBRIDGE gateway can also act as an IP voter
Full duplex conferencing between MOTOBRIDGE clients
Direct phone access to radio systems
Beyond these features are applications specific to the type of mission at hand. MOTOBRIDGE Gateway can be used to connect up to 4 radios, up to 8 radios, or up to 8 dispatch workstations into the network. And with built-in redundancy the distributed MOTOBRIDGE gateways handle all the audio processing and advanced signaling. With no central audio switch through which audio and data must be routed, dispatch commands and voice are processed immediately, regardless of how busy the system becomes. With other systems that have a centralized architecture, dispatch commands and audio can get backed up in a "queue" at the central switch, resulting in delayed communication. This helps to avoid lost words such as the phrase "Don't Shoot" becoming "Shoot".
For a detailed solution brief or more detailed information from one of ChiComm's sales representatives, contact us here with your e-mail address.