Customer service skills are probably the most important asset to front-line staff dealing with the public or clients. But customer service technology – and knowing how to use it – can be just as important as people skills.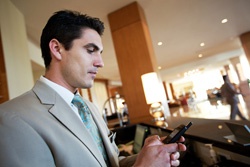 The right communication technology can create a win for everyone involved – the business, the staff, and customers. On-site service staff equipped with lightweight, convenient radios can assist customers by having real-time communication with team members handling inventory, accounts, and other functions.
Buying the right devices isn't enough, though. Too often, businesses buy the right devices, hardware or software but don't take the time for adequate instruction to unlock all of the technology's benefits. Training is the easiest way to ensure that you're putting technology to work to meet your customer service goals. While most modern radio solutions are pretty intuitive, it's still a best practice to make sure staff know how to use them correctly and efficiently. If that's not the case, it can impede staff confidence and ability to build trust with the customer.
Customer Service Technology Training Ideas
Reading the manual, attending an online class or having a training session with a certified professional might not sound like fun, but those are some of the most surefire ways to make sure you're getting the most out of your investment and that you're well-equipped to use technology to serve customers.
By building initial and refresher trainings into your team's schedules as soon as they begin handling the technology, you'll make clear that you consider it a necessary companion to your investment. You can also set minimum training requirements for technology and offer incentives for staff to continue beyond the basics.
Most technology manufacturers and developers are invested in making sure customers are using and maintaining their products correctly, meaning your well-trained workforce is a win for them, too.
Motorola Solutions offers a comprehensive suite of training services, "from needs analysis and consultancy to course development, customization, delivery, and logistics." The training is available for a range of its products, including MOTOTRBO mobile and two-way radios, and for deploying trunked systems for public safety.
Motorola's training options include resident, instructor-led classes at one of their Technical Training Centers, on-site classes at your location or online self-paced learning, as well as train-the-trainer classes for certified instructors. They offer beginner and advanced classes geared toward a variety of audiences, job roles and skill sets. A full list of Motorola's 2016 training offerings can be found here.
Vertex Standard offers a series of brief YouTube videos to demonstrate features on its eVerge EVX-530 Series radios. The videos are a quick way to become familiar with new and existing functionality, and workers can watch them as needed and at their own pace.
So when you're planning out customer service training ideas for the coming year, don't just focus on people skills – remember that use of technology can make or break many delicate customer care situations.
To get the communications technology you need to provide excellent customer service at your healthcare facility, contact Chicago Communications today!